Wales omission a 'reality check' for Cardiff Blues' Alex Cuthbert
Last updated on .From the section Rugby Union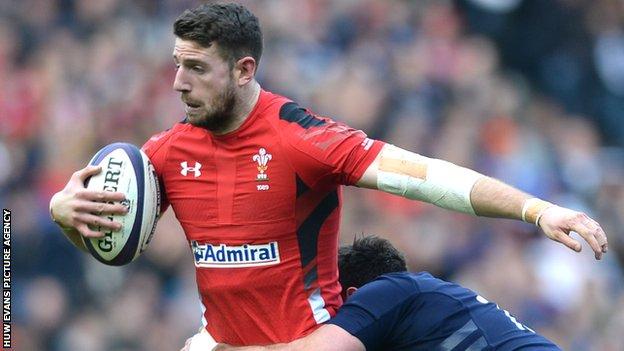 Alex Cuthbert is desperate to prove his worth after the "reality check" of being dropped by Wales, according to his Cardiff Blues coach Dale McIntosh.
Cuthbert has since been released back to his region for Friday's Pro12 match against Connacht.
"Alex is probably hurting at the moment and we needed to know where his state of mind was," said McIntosh.
"We asked him whether he was in the right state of mind to come back in here and put a shift in and he said: 'Mate, I can't get on the pitch quick enough.'
"With the discussions he has had with us, I am really confident he is going to go out there and show us what he is about.
"If we are to be blatantly honest, I don't know exactly why he wasn't picked, but there's a lot of competition in that back three at the moment, which is great for Wales.
"It mightn't be so great for Alex Cuthbert at this time and moment, but it's absolutely phenomenal for Wales and in the long term it will be good for the individuals as well, because they will become better players and more hungry."
Cuthbert's omission for Wales' victory in Paris was the first time he had been dropped for a Six Nations match since making his debut against Ireland in 2012.
His status has rocketed since then, scoring tries that sealed successive Six Nations titles that year and in 2013 as well as touching down for the Lions during their series win in Australia.
McIntosh, who has been placed in temporary charge of the Blues with Paul John following the departure of Mark Hammett, believes Cuthbert will respond well to the setback.
"It's come so hard and fast for him, you are going to get a reality check aren't you, let's be honest," said McIntosh.
"I had Alex in the academy and he had a lot of work to do. But he was a big man, a fast man, a great finisher and he knew where the try-line was.
"It's not just about Alex. It's about that Welsh squad at the moment and about them developing towards the World Cup and getting strength in depth,
"It's all about competition for places and he's just caught up in that. He doesn't become a bad player overnight and he's not performing horrifically.
"The fact of the matter he has been left out this time, perhaps next time he will get the shout."