Ian Davies - Cornish Pirates play-off hopes 'are over'
Last updated on .From the section Rugby Union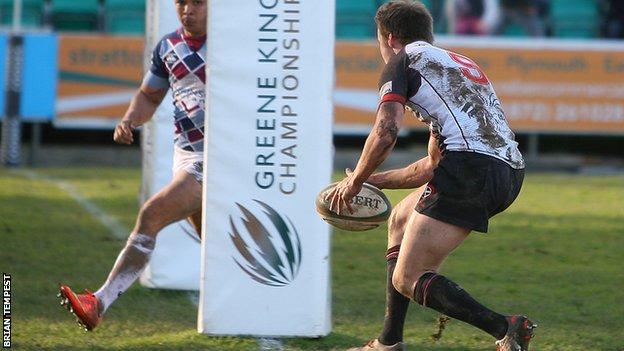 Cornish Pirates' hopes of reaching the Championship play-off are over after their 28-10 home loss to Rotherham, according to boss Ian Davies.
The Pirates trailed 21-3 at the break and failed to recover, despite a second-half try from Tom Kessell.
"Let's be realistic, we are not going to be in the top four now," Davies told BBC Radio Cornwall.
"We needed to beat Rotherham, we're not going to be top four so let's get rid of that pipe dream."
The Pirates are now seventh in the Championship, 14 points ahead of Plymouth Albion, who occupy the one relegation place.
"We're looking at relegation and making sure we survive that and are in the Championship next season," Davies added.
"With the group of players that have been together here, we'll have a good crack again next season."
Davies was left frustrated by his side's performance in the opening period against Rotherham, which saw them concede two tries and three penalties.
"The first half killed us," he said. "There were too many spilt balls and too much time spent in our own third, which allowed Rotherham to get the points on the board.
"I the second half we were better, but not good enough to win in the Championship."