Six Nations: Sean Maitland wants smarter Scotland at Twickenham
Last updated on .From the section Scottish Rugby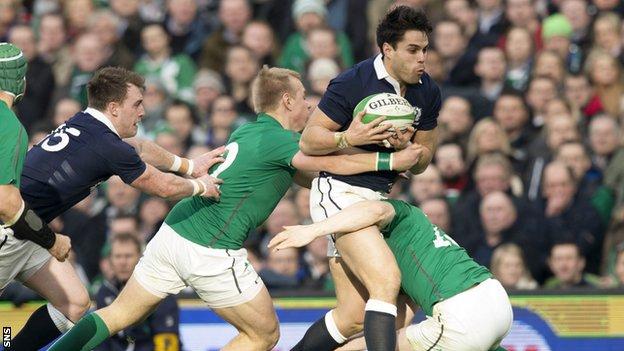 Sean Maitland has called for Scotland to up their game as they attempt to end a 32-year wait for victory over England at Twickenham.
"We've got to add some energy," said Maitland.
"We need to have a good look at ourselves in the mirror and ask some hard questions."
Maitland has returned to the squad after a six-week lay-off to replace the injured Sean Lamont and could face England in the quest for the Calcutta Cup.
"Obviously they're going to be dangerous," said the 26-year-old. "If we play like we did against Italy, we'll get 40 points put on us.
"The mindset is we've got to go down there and play smart and have that balance between knowing when to kick and knowing when to run because their defence is so strong.
"Our backline, on our day, we could cut anyone up. It's just having that confidence going into these games - they're normal guys.
"Obviously Twickenham's going to be a huge game, but it's about having that confidence that, if we play well, we can rip anyone up."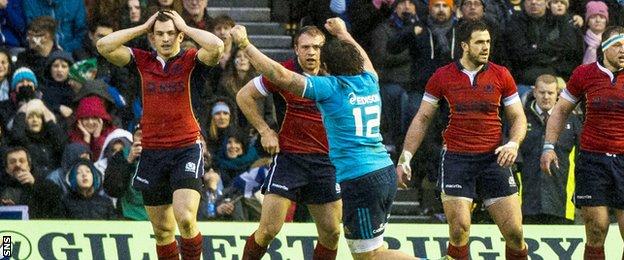 Scotland assistant coach Matt Taylor questioned the desire of the players after the 22-19 defeat to Italy, but Maitland is adamant they are up for every game.
"It's easy when you train to run through the game plan, but when you're on the pitch and in the intensity of test-match rugby, things change," he said.
"Different situations come up and, whether you react to those situations in a different way, we probably didn't react the best we could and it cost us.
"I don't think players go into certain games where they're not switched on or the intensity's not there. Every test match you should be. It's the pinnacle of our sport."
Maitland insists that small margins make the difference when looking for wins at the top level.
"I could be sitting here talking about three from three, but it's just those little mistakes that are letting us down," he said.
"We need to play smarter, we need to execute our basics well and we need to have better shape.
"We need to take our opportunities, our line breaks. Even in the Wales game we were making these breaks and not finishing them. If we take those, we probably beat Wales."
Full-back has Stuart Hogg claimed England lack respect for Scottish rugby and that they are perceived as second-class competition south of the border.
"Hoggy's a passionate man," said Maitland. "I wouldn't say the English don't respect us.
"But we haven't won down there since '83, so they probably could afford to say that."