Scotland's Rob Harley hopes he is made of the write stuff

By Tom English
BBC Scotland
Last updated on .From the section Scottish Rugby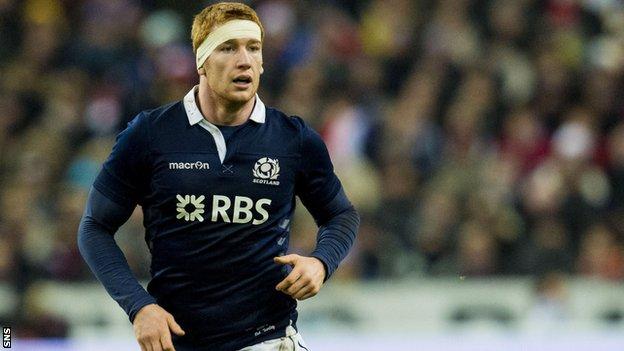 It's just a casual question thrown in amid all the rugby issues of the day, but when Rob Harley is asked to name the one thing he would like to do before he dies, he didn't hesitate, not even for a second.
Oh sure, he'd like to tick all the boxes that all professional rugby players want to tick.
He wants silverware with his club and country. He wants Glasgow to win a Pro12 and become a force in Europe. He wants Scotland to climb off the wrong end of the Six Nations table and be a challenger for the first time since they won their last championship, when he was nine years old.
But there is one other thing. He wants to write a novel and he'd dearly love it to be published.
"I'm writing something just now," he said. "I tend to do it mostly when we're on away trips. When you're on a plane or in the hotel you get time to do it. The book is going to be about a leftist revolution, but I'm trying to make it quite humorous as well."

Harley is a bright boy. He takes us through his literary favourites and stops at his number one writer - the late Portuguese novelist, Jose Saramago.
One of Saramago's best known works is called Blindness, which could be a tome about Scottish rugby in the professional age.
"Blindness is about a city where everybody starts to lose their sight," added Harley. "He has another one called Seeing which is about an election where all the votes are returned blank leaving the country in limbo.
"The ideas in his books are great, but the voice he creates is absolutely engrossing. You really get lost in them."
Chances are that in the wake of the Italy game, Harley hurled himself into his writing or his reading in an attempt to escape the bitter reality. The revolution he has in his head, and on his computer, shows no sign of being transferred to the rugby pitch.
Three matches and three defeats and Twickenham to come on Saturday. The last time Scotland won there was 1983 - seven years before Harley was born.

The Italy defeat was pored over earlier in the week. Head coach Vern Cotter got out his scalpel and sliced the thing up, pointing out the mountain of mistakes that led to the dramatic and ruinous endgame.
Part of the post-mortem was the analysis of Italy's devastating maul and Scotland's inability to deal with it, a failure, if repeated on Saturday, will surely lead to a terrible beating.
"Before Italy, we talked a lot about their maul attack and how important it was to stop that, and it was very disappointing that we didn't defend it well," Harley said.
"We were very clear going in that we didn't want to sack their maul. The risk of sacking is that if one guy is trying to take it down he stops everybody else from hitting it. If you don't get it down on the floor, then you're in trouble.
"But if everyone is hitting then we should be able to get their guys going backwards. That was what we were trying to do but there was something wrong with our set-up. For me, personally, the way I was lined up and the way they were winning the ball up front wasn't ideal.
"We were slow in hitting it, it gave them a chance to set up and they took advantage. They were very tight and they rolled well. They peeled away, kept it rolling, protected the ball and made it count. We just didn't do our job well enough."

Cotter didn't berate them in the aftermath. He's been measured and precise in his language. He told them that they had to stick together as a team and be honest about the problems they needed to fix. "There was no hysterics," said Harley. "Nobody's losing the head."
Much has been made of the lack of leadership in this Scotland team.
It's partly been put down to the lack of experience. Nine guys from the 23 who played against Italy went into that Test with caps totals in single digits. The average age of the squad was 26 with an average caps total of 24.
The flip side is that the average of the Italy squad was also 26 and their average caps total was also 24. They were locked together in experience terms but the difference was that when the heat was at its most intense at Murrayfield, Italy had the great Sergio Parisse calling the shots, whereas Scotland had nobody.
"What we take from the losses is that we were in all of those matches and as a young team the more high level contests we play and the more times we put ourselves in place to win them, the better chance we're going to have to win them.
"We maybe don't have the experience of some of the other nations, but the only way we're going to get it is by sticking together, there will come a tipping point where it goes from inexperience to experience and we will know what to do in those situations.
"It happened in Glasgow. In my first season with Glasgow we were towards the bottom of the league and there were a few games where we got hammered. But young players came through. It was the start for myself, Henry Pyrgos, Pete Horne, Chris Fusaro, Alex Dunbar. We developed and got better. It just took a while."

Harley has been on the pitch at Twickenham, but only as a water carrier, two years ago.
"It's a great stadium with a great atmosphere," he said. "From the moment I set foot in it I really wanted to play there.
"England are an excellent side, but we don't fear them any more than any other team.
"Fear focuses you anyway. It hammers home the importance of these games. Fear and nervousness tend to be things I feel beforehand, in the lead-up to a game, but when you get out there then all that goes away and you're in the moment. It's just a fear of losing, a fear of not playing well and letting the team down. It helps. It drives you on."
If Saramago was alive he might be moved to write about the struggles of this rugby nation.
He once wrote something called The Traveller's Baggage. It could well have been a study of all those painful trips to Twickenham since the Scots last won there.