Premier Rugby to sign new TV deal extension with BT Sport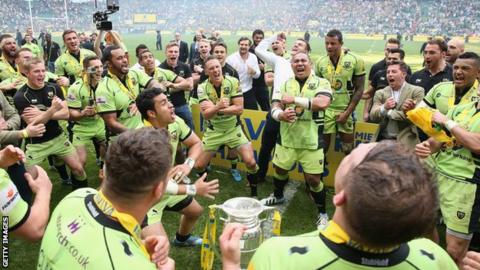 Premier Rugby is set to sign a new four-year contract with BT Sport, extending its deal to show live Premiership rugby games.
The Daily Telegraph reports the deal is worth considerably more than the £152m agreement the pair signed in 2012.
However, the deal, covering 2017-21, will not include the rights to Premiership teams' European matches.
It should give English clubs extra finances to help them to attract and keep more of the world's best players.
The deal will include showing up to 80 games per season, up from a maximum of 69, as well as the Singha Premiership Rugby 7s Series.
The governing body, which is considering expanding the Premiership to 14 teams and scrapping relegation from 2016, caused a surprise when it signed its first exclusive deal two-and-a-half years ago with the broadcaster.