Six Nations 2015: Inconsistent England dreamy & nightmarish

By Tom Fordyce
Chief sports writer
Last updated on .From the section Rugby Union331
Sir Clive Woodward, as so often, had a catchy acronym for it: T-CUP.
Unlike some of his footballing equivalents, the former England coach was not throwing them against dressing-room walls. It was less about smashing than the cerebral: Thinking Clearly Under Pressure.
In among the piles of business-speak and occasional David Brent-isms it was one of the mantras that stuck for the last great England team. Never was it better illustrated than in the dying moments of the 2003 World Cup final, when 15 men in white kept their heads when all around were losing theirs to work through the pre-planned multiple phases that culminated in Jonny Wilkinson's famous drop goal.
On Saturday, despite the 25-13 win over Scotland that put them top of the Six Nations table going into the final weekend, it was less T-CUP than glass half full - a victory that should have been so much more, a slender advantage that could have been decisive.
By conservative estimates, England blew six clear try-scoring opportunities at Twickenham.
Overlaps were ignored, support runners scorned, passes thrown forward. None of which may ultimately have mattered in securing the Calcutta Cup for another year, but may prove critical in their pursuit of a first championship in four seasons let alone any hopes of a World Cup repeat at home this autumn.
Another of Woodward's pet phrases was "energy-sapper" - a reference to the more negative sort of characters who he believed cost him his shot at the previous World Cup in 1999.
To ask for more when England have run in three fine tries and created so many other golden opportunities might be to risk exactly that characterisation.
To which must be given the context of an opposition who, while spirited and much improved on dismal defeat by Italy, had not won at Twickenham for 32 years, have shipped an average of 34 points in their last seven visits and on current form are likely to end this season waving nothing but a wooden spoon.
England remain a likeable team of infuriating inconsistency, capable of looking devastating in patches and demoralising in others.
Against Wales they started badly, produced a sensational 40 minutes to seize the game and then sat back with job done. Against Italy they began as if asleep, woke up to dazzle and then dozed off again. In Dublin they sleepwalked into the most predictable of traps and only roused themselves when the contest was gone.
This strange sporting narcolepsy continued against Scotland: outstanding for the first quarter, out of it for the second; dreamy in creating chances but nightmarish in finishing them off.
Orchestrated superbly by George Ford in his best game yet at international level, they made 11 line breaks. Twenty-six times a defender was beaten. And then, with the coup de grace awaiting, the T-CUP would shatter time and time again.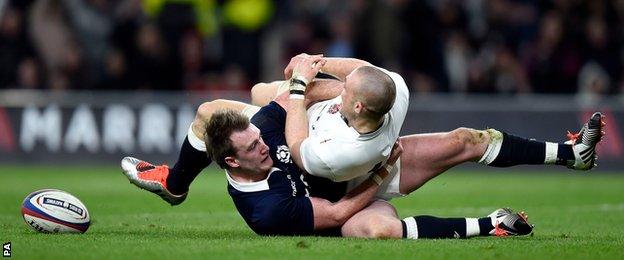 Some of it you can excuse through international inexperience. Jack Nowell, at 21, is less than 10 games into his England career. Wiser heads would have spotted easier passes.
Some of it you can put down to bad luck; Mike Brown would surely have made it under the posts in the first half rather than being hauled down two metres short had he not been sprinting in one shoe and one flapping sock. There is only one Brian Whittle and, lest we forget, he was Scottish.
More of it can be put down to what is variously known as white-line fever, brain-freeze and butchery.
Since the start of last year, England have won nine matches and lost seven. That record reflects not only a tough summer tour of New Zealand but also where they are as a team: good enough to win when expected, fragile enough to lose out too many times when the real heat comes at them.
Whether a first Six Nations title under Stuart Lancaster would change much of that is a moot point. Not all championship wins are equal, as the expressions of the last England team to get their hands on the trophy - thumped in a Grand Slam decider in Dublin in 2011 - illustrated so vividly.
There are championships that feel won, and those that feel like a poor sort of consolation prize.
For Ireland, locked together on six points with England and Wales going into Saturday's denouement, the painful loss of a potential Grand Slam in Cardiff is likely to outweigh the pleasure felt a year ago when they snatched the title from England with that final-day triumph in Paris. For Wales, coming roaring back this spring as they did in 2013 after the opening night disappointment of home defeat by England, the opposite will be true.
England? The scheduling may favour them. Their current points advantage is four better than Ireland's and 25 ahead of Wales; by the time they run out at home to France they will know the results of Wales's lunchtime kick-off in Rome and Ireland's mid-afternoon adventure in Edinburgh.
So too may the history. Wales have won their last three games in Rome by an average of just 10 points. Scotland have won the last two home matches against Ireland. France have not won at Twickenham since 2007, and have lost their last three visits by an average of 14 points.
Yet even if one of the stodgiest French teams in memory is sliced up at Twickenham - and no-one should make too much of those recent precedents come next weekend - it will be hard to argue that England are in noticeably better shape than a year ago.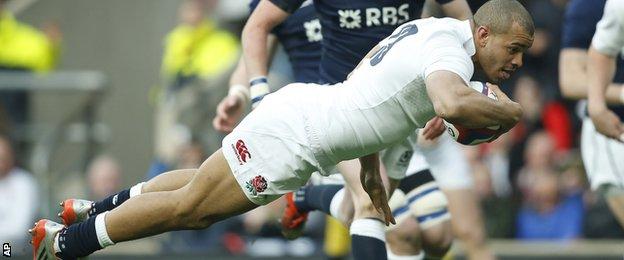 The emergence of Ford as a creative force at fly-half and the flowering of his club partnership with Jonathan Joseph in international soil has been the great light.
But whereas only a late French try in a game they should have won stood between them and a Grand Slam 12 months ago, this time around there has been comprehensive defeat in Dublin.
As a team they are less fully grown than in permanent good-natured adolescence; in each of Lancaster's four Six Nations seasons they have so far won and lost exactly the same number of games.
Woodward did not always get it right. He once asked BBC TV's Changing Rooms team to revamp the home dressing rooms at Twickenham, and even that compared favourably to the mangled makeover he gave the Lions team in New Zealand in 2005.
His teams also repeatedly failed critical championship tests - to Wales at Wembley in 1999, in Scotland a year later, in Dublin in the autumn of 2001.
But there was something in those T-CUPS, and it is something that Lancaster's men must learn to find.