Jersey: Nine agree new deals at Championship club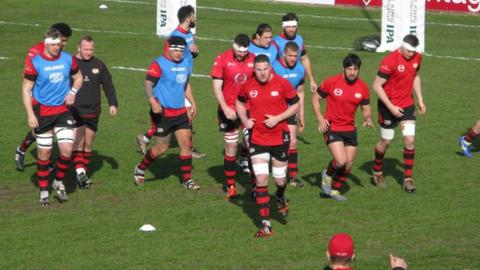 Championship club Jersey have agreed new contracts with nine players.
Argentina international forwards Ignacio Lancuba and Martin Garcia-Veiga will stay at St Peter until 2016.
Also signing new 12-month deals are Dave Markham, Pierce Phillips, fly-half Aaron Penberthy and Mark McCrea.
Lock Nick Campbell, back-row Nick Haining and Joe Buckle, who has converted to hooker this season having previously been a flanker, have agreed deals until the summer of 2017.
The nine players join captain Alex Rae, who
The club already has props Sam Lockwood, Harry Williams and Danny Herriott, as well as Lewis Robling, Fautua Otto and Jack Burroughs contracted through to the summer of 2016.
"We've been working hard to shape the core of next season's squad while at the same time retaining our focus on the current campaign, which includes another five important league games," said head coach Harvey Biljon.
"Discussions are continuing with some of our existing players, but it's inevitable that there will be a summer turnover of players, with a number of new signings and others who will be moving on," he added.
"The aim is to make Jersey an established Championship club, and we are lining up the personnel we need to achieve this goal."