Mark McCrea: Jersey have a positive future says back
Last updated on .From the section Rugby Union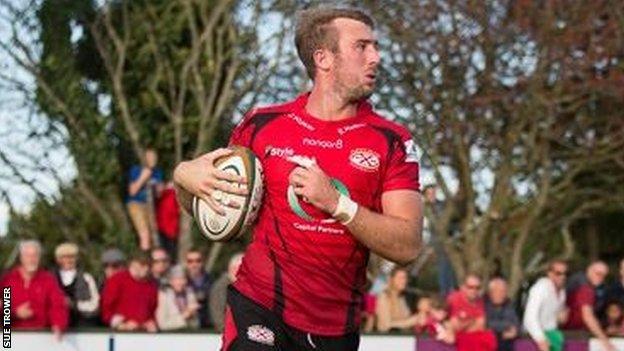 Jersey back Mark McCrea believes there is a bright future ahead for the Championship club after agreeing a new 12-month contract.
The Irishman, 27, was this week.
"Everyone enjoys playing for Jersey and we all see a good positive future with the club," McCrea told BBC Jersey.
"The fact that nine people have already re-signed shows that it's a pretty happy camp, there's a lot of good things happening."
McCrea and Saturday's clash with Championship leaders Worcester will be his 50th appearance for the island side.
"It's a pretty exciting place to be at the minute, we're improving week-by week, year-by-year from our first year in the Championship.
"I'm sure there'll be a few more in the next few weeks re-signing," said the Ireland A international.
"Everybody loves playing for Jersey, everyone gets along very well and it's good that people are committing to the club for the long term."
He was brought to the club by former coach Ben Harvey and has featured in most of the club's Championship games under successor Harvey Biljon.
"He's a great coach," McCrea added.
"Everybody can see since he's come in that the skills from one to 15 on the pitch have all improved, our game plan is getting better, we're attracting better players and we're getting stronger year by year.
"I'm sure there's a lot of things he would still like to strengthen within the squad, and everyone's got faith in what he's doing and buying into it."