Six Nations: Scots can't play a bashing game - Roy Laidlaw
By Jamie Lyall
For BBC Scotland
Last updated on .From the section Scottish Rugby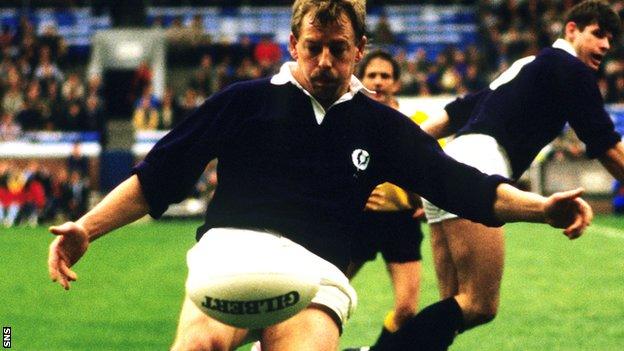 Roy Laidlaw is 61 now and little details of the past, remnants of a bygone era of Scottish rugby splendour, elude him.
But there's a voice in the background that chimes in and keeps him on track with a name or a date he's struggling to grasp.
"That's my wife - I'm losing my memory," he jokes.
Laidlaw could be forgiven for forgetfulness; the landscape of Scottish rugby was dramatically different when the Jedburgh scrum-half, moustached and tenacious, was darting, sniping, scoring tries and winning Grand Slams, forging a record-breaking partnership with John Rutherford in a Scotland career spanning eight years and 47 caps from 1980-88.
For starters, the sport remained staunchly amateur. Laidlaw was Jedburgh's electrician extraordinaire by week, Scotland star by weekend.
"The biggest thing was the fun we had after," he chuckles when asked to select his most treasured memory.
"There was always some great banter with the Irish. They had great characters - Donal Lenihan, John O'Driscoll, Phil Orr, Tony Ward - I still keep in touch with Ollie Campbell. He sends me a Christmas card every year."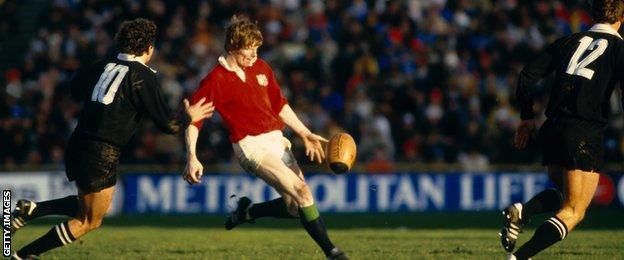 Worlds apart from the muscle-bound behemoths, rippling with sinew, that define today's game.
"Teams like New Zealand always bring back the memories, the kind of rugby you want to see, players with flair," enthuses Laidlaw.
"There's not so much variety in the game now. Nobody has a planned penalty move. We scored numerous tries with inventive ploys from penalties.
"There's a lot less space. I can't believe the defence line up across the pitch. When we played, all the forwards were told to get to the ruck and jump on people."
Then there was the glory. Scotland were the first team to win in Cardiff for 14 years in 1982. They toured Australia and won there too.
Laidlaw plunged over in Scotland's most recent Twickenham triumph in 1983, and his team came within a missed conversion of beating New Zealand eight months later. And of course, a Five Nations clean sweep, masterminded by Jim Telfer, followed in 1984.
"I can live with what's happening at the moment because they're playing some very good rugby," he says of today's Scotland squad who tackle Ireland on Saturday seeking to avoid a championship whitewash. "We can't play a bashing game."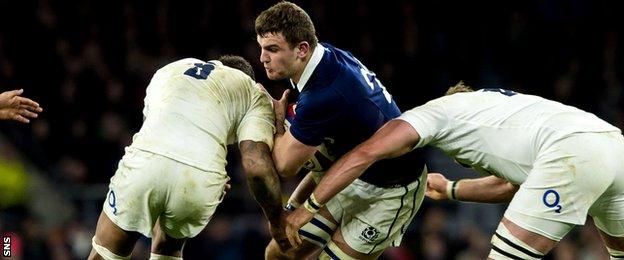 "We have to keep the pace of the game up, turn the opposition and be inventive. I'd rather they get beat playing the kind of rugby they're playing than have them trying to bash their way through.
"We maybe need a couple of stars to appear in the back row. The Glasgow boy that played in autumn, what's he called? Adam Ashe, I like him. Johnnie Beattie's quite good, but he doesn't do it often enough. The other boy with the white cap on, [Blair] Cowan, he's good, his work-rate's high, but I think they need him more physical with a bit of guile about him."
Fiercely proud of his heritage, Laidlaw's burgeoning obsession with the game was fuelled by his grandmother, Peggy, who lived to see all three of Scotland's Grand Slams in 1925, '84 and '90.
Indeed, rugby does not so much run in the Laidlaw loins as deluge. His three sons played the game - eldest, Clark is assistant coach at Wellington's Hurricanes in Super Rugby, and will join London Irish next season. His youngest was named after Roy's hero, All Black scrum-half Chris Laidlaw (no relation).
And nephew Greig skippers Scotland wearing the same number nine jersey donned by his uncle 30 years ago.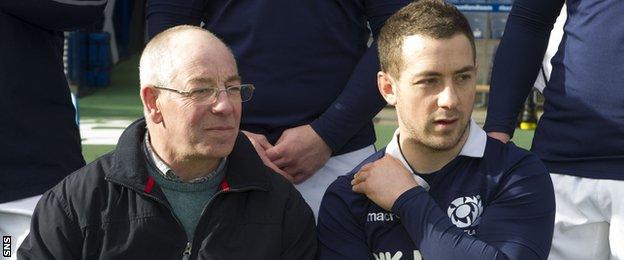 "My granny gave me my first rugby ball," he says. "She loved the rugby, she called it the 'fitba'.
"She went to all Jed's home games at the Riverside. She walked from her house on the main street down to the rugby until she was well into her 90s. There are women all over the Borders like that, it's not just the young kids you're enthusing, it's the whole community.
"We were driven by rugby. It was like our lives revolved round rugby.
"I used to think about rugby day and night, and I was obsessed with it. I still think it's a great sport for the development of young people. The young players still get a lot of enjoyment out of their games. It's just a bit more predictable these days."
Laidlaw spent 15 years after hanging up his boots working within Scottish Rugby, scouting, developing and coaching the next generation. With modern rugby a fast-evolving beast, he resigned in 2004 and "went back to the tools", but still retains a strong interest in the game via his president's role at Jedburgh RFC.
"Borders rugby in some ways has gone backwards - there's not the volume of players there was years ago," he says. "Jed had four teams on a regular basis, we had a fifth team at one time, getting two teams out now is quite a challenge.
"Greig, Stuart Hogg, Ross Ford, they come from Border towns, they'll still be well looked at but they'll not be seen very often.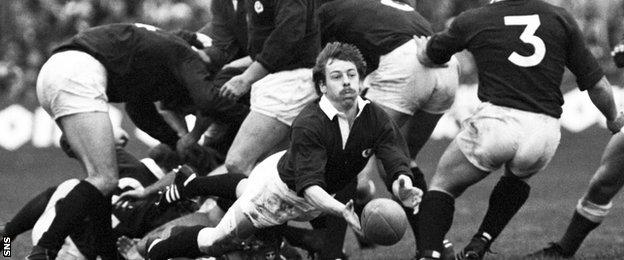 "The money's made a difference - teams like Heriot's and Watsonians hardly have a former pupil in the team. That worries me - if the premier clubs stop producing players, where are the future players going to come from?
"The SRU say the numbers are growing, but they're not. If you look at the number of games being played, there are far fewer. Players and teams will call off at the least little thing.
"We need to look at maybe having more local fixtures for second teams. Boys don't want to travel, they don't want to spend their whole day on a bus going to Aberdeen."
The amateur triumphs and post-match partying may be gone, but Scotland face title-hunting Ireland this weekend desperate to escape the Wooden Spoon.
Six of Laidlaw's seven international tries came against the Irish, scoring so prolifically on one patch of the old Lansdowne Road turf that it became known fondly among Scots as 'Laidlaw's Corner'.
"I probably feel more proud now - I didn't think much about it at the time because I was used to scoring quite a lot for my club or the South [of Scotland].
"We didn't used to celebrate the way they do now.
"I don't suppose you'd look at Ireland and say you need to move them about, or speed the game up, but to break down any defence nowadays you've got to move the target as much as possible, you've got to offload, there's so much you've got to get right.
"The game's changed so much - when we played there was far more time and space. Players have to think and act much quicker than they used to.
"Aye, that was good fun [back then]. It's all memories now."