Six Nations: No 'mental fragility' for Scotland - Tommy Seymour
Last updated on .From the section Scottish Rugby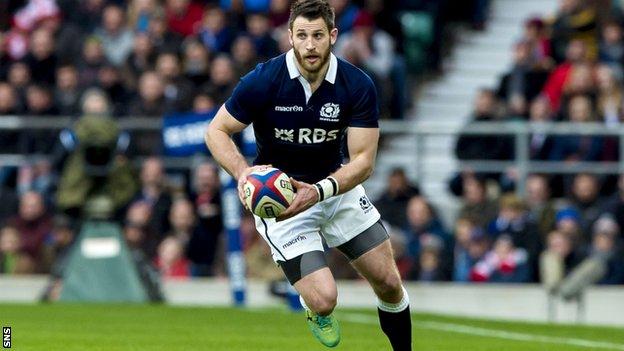 Scotland winger Tommy Seymour rejected suggestions the squad suffer from a lack of resolve having lost all four of their Six Nations fixtures to date.
The Glasgow Warriors' wing was in the starting line-up at Twickenham where the Scots surrendered a 13-10 half-time lead to lose 25-13.
"I would almost take offence to the notion of that," said Seymour.
"I understand the questions that need to be asked, but there's definitely not a mental fragility."
Scotland end their Six Nations campaign on Saturday at home to Ireland as they bid to avoid the wooden spoon.
Seymour said: "We need to get out of our own way sometimes and not be the creators of our own downfall, however there is certainly no fragility on a mental aspect in terms of any of the players I go out and play with.
"There needs to be an ability within all of us to learn that we can do these things for 80 minutes - if we're going to win games this is what we have to do. But we're definitely not in a position where we're doubting our abilities.
"I could harp on because they're my teammates, its easy for me to say, but these are an unbelievably talented bunch of guys that can drive forward and become a really great team, and everyone believes that."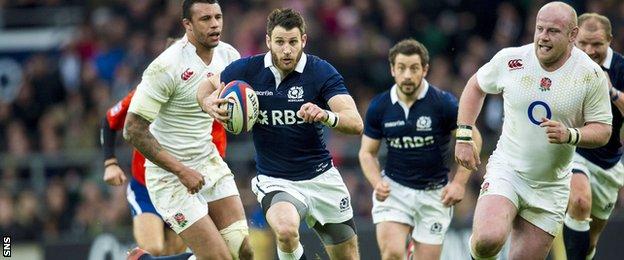 The 26-year-old stressed the need for consistency after Scotland failed to build on a promising 20 minute spell in the first half against England, and played well sporadically during their defeats to France, Wales and Italy.
"It's very hard to take - it's another match where we've come off having not got anything out the game," said Seymour. "I would be remiss if I didn't say we were very disappointed as a squad.
"There's a lot of stuff we can take from it and we can be very pleased about. Elements we know if we do on a consistent basis will cause more problems to teams and allow us to play the kind of rugby that has allowed us to create an expectation amongst ourselves and fans that we are improving, growing as a squad and becoming a squad which is competitive and should be winning Test matches.
"But, there are things we can't be satisfied with.
"We have built platforms in games, which should be a catalyst for us to go on and create more havoc, and we haven't been able to do that.
"We're not playing up to the standard we are capable of. We've shown bits of it, we've shown glimpses of it, patches where we've shown the problems we can cause top quality teams.
"We've produced performances in the autumn which raised expectations, which said, this is the way this team's moving forward, trying to play and develop, these are the things we now expect from them.
"And if we don't deliver those, people, more than anyone ourselves, should be annoyed about that."