Six Nations 2015: Ireland title glory delights Joe Schmidt
Last updated on .From the section Rugby Union
Ireland coach Joe Schmidt said he is "delighted and relieved" after his side retained the Six Nations title.
A 40-10 win over Scotland gave Ireland the title on points difference ahead of England and Wales on a thrilling final day of the championship.
"It was tumultuous. Exhausting. It builds coronaries for coaches but it also builds character," said Schmidt.
"I'm looking forward to being quite relaxed now. Hopefully we can keep going forward."
Wales briefly led the Six Nations standings after hammering Italy 60-21 in Rome, resulting in Ireland needing to defeat the Scots by 21 points to go top.
England required a 26-point winning margin over France to deny the Irish back-to-back titles for the first time since 1949, but they came up just short in a 55-35 victory to complete a dramatic triple-bill of action.
"I think I can speak for all the players, that they love the championship," added Schmidt.
"The super Saturday that people have got, I know people who had put aside the three slots in the day, and had apportioned various amounts of beverage for each slot.
"And I just wish that I was able to join them to be honest, because I would rather have been doing that than being sat in the pressure-cooker that we were in.
"But at the same time I wouldn't swap with anyone, working with the group of men that I do, and the way that they prepare themselves and put their bodies on the line."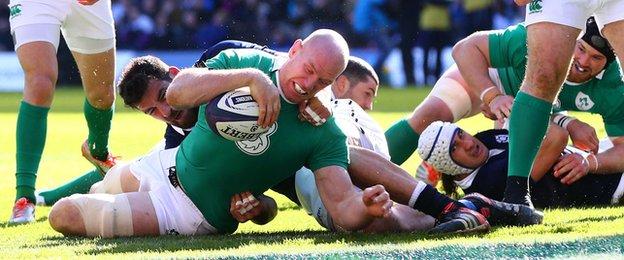 Captain Paul O'Connell hailed Ireland's history-makers after emulating the feat of the great 1949 team led by Dr Jack Kyle.
"To win a championship any year is fantastic," said the Lions and Munster lock.
"I've spent a lot of years in close calls, and it's been a great eight weeks.
"I think we'd be very proud of what we've done in the last eight weeks, in terms of how we've addressed certain things in our performance, in attack, defence and our resolve to come out and produce a good performance like that after losing last week.
"I'm very proud of this squad over the last eight weeks."

How stunning Six Nations finale unfolded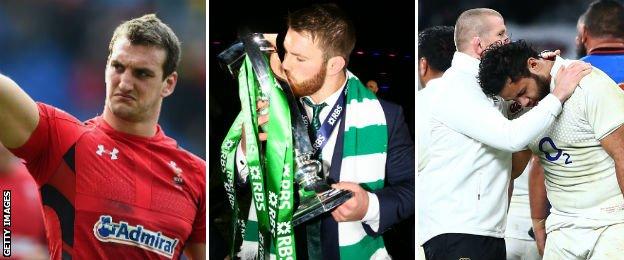 In first game Wales only lead 14-13 against Italy at half-time

But seven second-half tries see them win 61-20 and go top

Ireland need a 21-point win and lead Scotland 20-10 at the break

Ireland go on to win 40-10, putting Wales out of the running

England chase a 26-point win over France to take title

France lead 15-7 after 18 minutes in a remarkable game

England recover to win 55-35, but the trophy goes to Ireland

Reaction from the winners - and losers
Ireland captain Paul O'Connell: "I never would have predicted such a game at Twickenham. Fair play to England and fair play to France. I've never received a trophy in such a bizarre situation [after being handed the cup on the Murrayfield pitch]. It's strange. In some ways it's better than last year."
England head coach Stuart Lancaster: "I'm gutted really. It was one of the most courageous performances I've seen from a team. It was an unbelievable game of rugby."
Ireland head coach Joe Schmidt: "It was tumultuous. Exhausting. I spare a thought for England, they were superb today and probably deserved a share of the spoils."
England scrum-half Ben Youngs: "I don't really know what to say. I'm devastated. Congratulations to Ireland. We're devastated. We gave it a crack, but you can't let them get back in the game."
Ireland's two-try scorer Sean O'Brien: "We knew what we had to do at half-time and we executed it very well. It was important we expressed ourselves. We had to win the game first and foremost and we stuck to our guns and got the result."
Wales head coach Warren Gatland: "We knew if we scored a couple of tries to get ahead of Italy we would break their spirit. It was a great second-half performance."
Former England hooker Brian Moore: "England will feel desolate. There is very little to choose between the top three teams on any given day."
Former Scotland full-back Gavin Hastings: "I am massively, massively disappointed by Scotland. I expected them to come out and put on a performance. But they have laid down and that is very sad to see."
What the fans thought
Harry Williams @cockneywilliams Bonkers - absoutely bonkers
Paul Wade @paulmatthewwade What a game of rugby!! Ireland are champs again!!!
Erin Ferris @ferris_erin Boom! Done!
Colin Nicholl @cnicholl33 Cancel the World Cup. It will be a let down after this 6 Nations finale
Emma Hart @emmamh Unbelievable day of rugby! Wales may not have won the title but they certainly did is proud!
And the celebs...
Dara Ó Briain @daraobriain Commiserations to England and Wales, a hell of a finale, but Come on you boys in Green!
James Martin @jamesmartinchef I love rugby. What a day! Top work Ireland
Rory Bremner @rorybremner What. A game. Of rugby
Phillip Schofield @Schofe Well it doesn't get much closer than that ... Dammit! Great match though
Gary Lineker @GaryLineker If you were watching the drab finish in the rugby, you'd have missed a classic at Upton Park.
What a day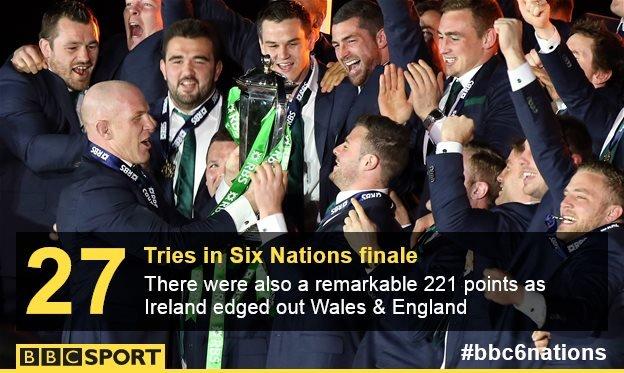 As it happened