Ireland win Six Nations: Coach & captain the heroes in thrilling finale

By Tom English
BBC Scotland at Murrayfield
Last updated on .From the section Rugby Union
It was Rob Kearney who suggested that if Joe Schmidt ran for president of Ireland it would take a very good man, or woman, to beat him.
After the record-busting victory at Murrayfield, and the trippy magnificence of what went down at Twickenham, we are now talking about a different level of worship for Ireland's adopted son.
Beatification is normally reserved for the dead, but in head coach Schmidt's case an exception might be made. To many in Irish rugby, Saint Joe of Manawatu might sound pretty good right now.
This has been a Six Nations that hasn't always been easy on the eye. The early games were joyless wars of attrition where concussions sometimes outnumbered tries and where monstrous hits heavily outweighed line breaks. The game has had cause to look at itself and wonder where it was heading.
And then the tournament's last acts happened and from Rome to Edinburgh to London we were reminded of rugby's essential greatness.
Wales were breathlessly brilliant in that second half in Italy, catapulting themselves to the top of the table on points difference.
In a wondrous performance at Murrayfield, Ireland were explosive, clinical and unstoppable. They put their foot on Scottish throats and kept it there.
It was a serious dismantling that sent the Scots scuttling back to the drawing board. Men against boys. And it meant Ireland overtook the Welsh at the summit of the championship.
The Irish players retreated to their inner-sanctum to watch the drama unfold at Twickenham.
They did their interviews but they kept it real. They spoke of their delight in their own performance and a 30-point margin that so many thought them incapable of, but they were cautious. Paul O'Connell, their extraordinary leader, set the tone. Happy, he said. But how happy? He'd tell us later.
The west stand was kept open for the visiting support to watch the drama from Twickenham. They sang of the Fields of Athenry one minute and acclaimed Les Bleus the next. It was surreal stuff. Never in the history of the Championship have we seen such scenes; thousands of Irish going crazy in an otherwise deserted Murrayfield.
Ireland were presented with their trophy - not the real one, the stand-in; the original was at Twickenham. Darkness had fallen but even then their smiles lit up the stadium. It was a very special but an utterly barmy moment.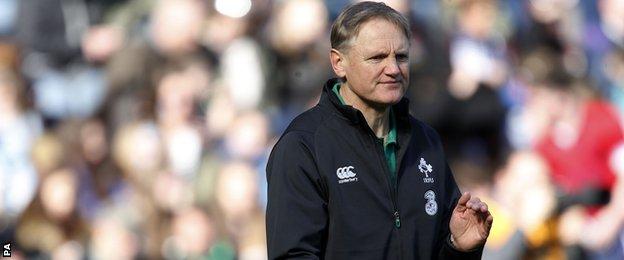 Not since 1949, when Jack Kyle was in his pomp, have Ireland won back-to-back championships outright. Those were glorious days for the green jersey but they were days before the advent of coaches. And, so, Schmidt, as shrewd as can be, becomes the first man to pull off this feat in the history of the game in Ireland.
They came to Edinburgh with an army of support who had surely travelled more in hope than expectation. Ireland's attacking systems had not fired in their four previous games in this championship and Schmidt has taken some grief because of it. There had been an over-reliance on Johnny Sexton's boot and an over-dependence on clinical rather than creative rugby.
Schmidt's team had scored four tries in four games and one of them had been a penalty try. Now they needed to put Scotland to the sword. They needed to re-invent themselves as a points machine in the wake of Wales' annihilation of the Italians.
And they did it. And how fitting it was that the man who started it was O'Connell, their colossal leader. Without question, O'Connell is Ireland's greatest forward, the only debate to be had being whether he is Ireland's greatest ever player.
The Limerick man battered his way over for the opening try, then lead his team magnificently. Ireland struck a beautiful balance of fire and ice and O'Connell was at the heart of everything they did.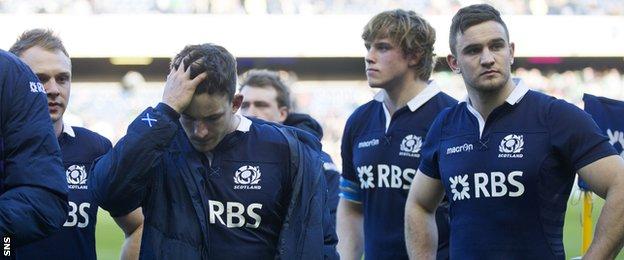 It was a deeply chastening day for the Scots. Their forwards were simply routed. They had nobody of the barrelling excellence of Sean O'Brien or the frightening intensity of Peter O'Mahony or the incredible leadership and hunger of O'Connell.
The irony is that an Ireland team that relied so much on Sexton's goal-kicking in their first four games was let down, in two cases, by Sexton's errant boot. They found a different way to build their score and to protect it.
With four minutes left, it looked like Stuart Hogg had got over in the corner but he was denied by a magnificent tackle from Jamie Heaslip, a seismic moment in the grand scheme.
Heaslip's intervention meant that the mountain facing England remained mighty. Too mighty. Just. Theirs was a gob-smacking effort, but on rugby's day of days, it was not enough. Rarely can a team have won a major victory and felt so dreadfully, inconsolably, low in the aftermath.
And never in Ireland's history has a team done what this one has done - back-to-back outright titles. The setting might have been weird come presentation-time, but in the vast acreage of a near-abandoned Murrayfield their glory was unmissable all the same.