Dean Mumm: Exeter captain to leave Chiefs at end of season
By Brent Pilnick
BBC Sport
Last updated on .From the section Rugby Union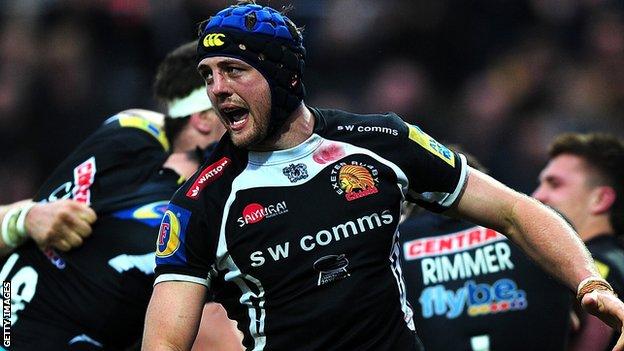 Captain Dean Mumm is to leave Exeter at the end of the season.
The 31-year-old second row is returning to his former team, the New South Wales Waratahs, after three seasons away.
Mumm, who won 33 caps for Australia, has been Chiefs captain for the past two seasons and led them to victory in the club's first major trophy.
Exeter have already signed who looks set to be his replacement.
"Dean's been a very good player for us and a very important signing at the time," head coach Rob Baxter told BBC Sport.
"We'd have been delighted if he'd have chosen to stay, but at the same time he's a guy who we've had a good relationship with, and when the opportunity of going back to Australia and possibly getting back into a World Cup squad came up, it made a lot of sense for him."
Mumm had a clause in his contract with Exeter allowing him to return to his native Australia should he wish to do so, and Baxter said he had been impressed by the second-row's commitment to the Chiefs.

"Dean's chosen to stay year on year and we've always had the agreement that at a certain stage of the season if he felt it was right to go back Australia then we would release him," he continued.
Baxter had hoped to have both Mumm and Parling in his pack next season, but is now looking at his options after Mumm leaves at the end of the current campaign.
"We've been aware that Dean was potentially leaving for some time and we've done a lot of work on how we shape the back five for next season," he added.
Meanwhile, Waratahs chief executive Greg Harris told the club website: "We're absolutely delighted that Dean will be coming back to the Waratahs.
"To have a player of his experience and reputation will be a great asset for the team.
"It is also an important reversal of the current trend of Australian players going overseas to pursue their careers".