Brian O'Driscoll: Ireland have good platform for World Cup
Last updated on .From the section Rugby Union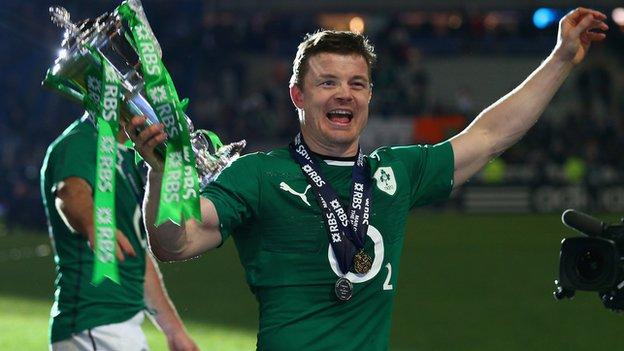 Ireland have given themselves the ideal platform for the World Cup by clinching the Six Nations title in dramatic fashion, says Brian O'Driscoll.
"It sets us up really well for the World Cup," said O'Driscoll, who retired last year.
He said even the defeat by Wales "might prove to be a blessing in disguise".
Losing to Wales in their previous outing meant the Grand Slam was not a possibility for Ireland, who had a nervous wait to discover whether England could overturn a 26-point differential in their late Twickenham match with France.
England fell narrowly short so Ireland were able to celebrate long into the night, and now thoughts turn to the World Cup campaign later in the year.
"In Ireland, we don't do middle ground, we're either top of the pile or bottom of the heap.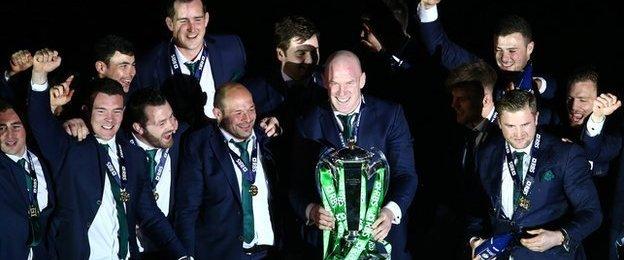 "If we had won the Grand Slam, going into the World Cup, there would have been an absolutely insane amount of pressure on the boys.
"That being said, we've won the Six Nations and there's still going to be that pressure and that level of expectation.
"But it's been a little bit tempered by the fact we did lose in Cardiff, so hopefully it gives us an opportunity to slip in a fraction more under the radar."
O'Driscoll, capped 133 times for his country, was at the centre of the narrative 12 months ago as Joe Schmidt's team carried off the trophy with victory over France in Paris, but now admires the team's play from the sidelines following his retirement at the end of last season.
"We're playing with a huge amount of confidence, we've got a very distinct understanding of what our strategy is and what our game plan is, and everyone's singing off the same hymn sheet.
"If we can be fortunate with not losing too many players to injury I don't see why we can't find ourselves in a semi-final - all bets are off when you get to that point."