Non Evans: 'The future looks really bright for Wales'

By Non Evans
Former Wales full-back
Last updated on .From the section Welsh Rugby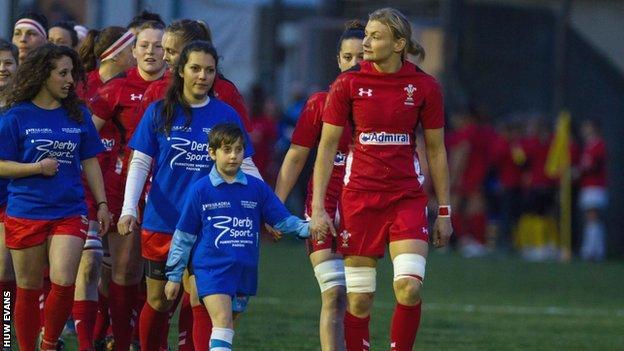 Former Wales Women's full-back Non Evans looks back at a Six Nations campaign that promised so much for Wales' inexperienced side.
She also assesses the health of the women's game and looks ahead to the 2017 Women's World Cup.
After beginning with wins over England and Scotland, Wales suffered defeats to France, Scotland and Italy to finish fifth in the final table.
Wales improving as World Cup looms
It was disappointing for Wales to lose out in Italy in the final game but it's always a difficult place to go.
Wales started the campaign really well with a win against England and then beat Scotland away, but Italy have really, really come on and improved so much.
They also beat France in this year's Six Nations and finished in their highest ever position of third in the Championship.
But it's going to be tough for Wales now because it's the World Cup in 2017, and this year's Six Nations and next year's Six Nations are the qualification for the World Cup.
So it's important next season now they make sure they finish in the top four otherwise they'll miss out on a place in the 2017 World Cup.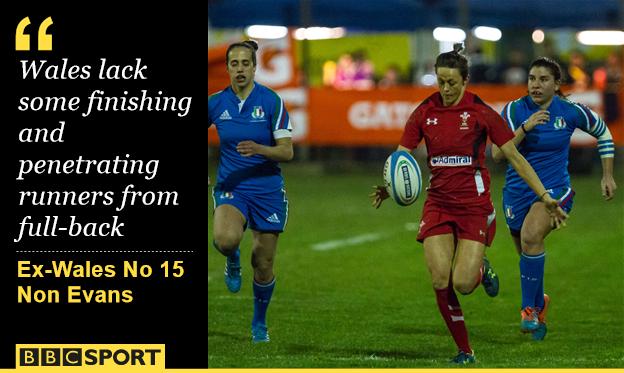 It was Italy and Scotland that missed out last time and let's hope it's not Wales that miss out on the next one.
But Wales are a very young side, I think they were the youngest side in last year's World Cup and they were the youngest side in the Six Nations.
So they're building and to do so well with so many youngsters the future looks really bright.
One thing they lack is some finishing and penetrating runners from full-back, that's what they need to work on.
It's similar to the men: when Liam Williams went to full-back it changed the game for the men and we need something similar, more direct running hitting lines and hitting angles and that's been a weakness this season.
But Wales are getting there and to beat England who had eight players in their squad who had won the World Cup last summer - fine, they were missing backs as well on Sevens duty - was great.
The fixture list will suit Wales better next year with three home matches, including Scotland and Italy, and in women's rugby I think home advantage really does count.
Women's rugby on the rise
Beating England really put Wales Women on the map, I was absolutely delighted - they were on the front page of the papers, not just the sports pages, for the first time ever!
There were also the biggest crowds we've seen in the women's Six Nations so far.
I was watching Wales' game out in Italy and they were playing in a huge stadium with a crowd of over 7,000 there, and then England played France at Twickenham after the men - and that was live on television on the red button on the BBC - and there was a crowd of over 10,000 there.
2015 WOMEN'S SIX NATIONS FINAL TABLE

Team

Played

Won

Drawn

Lost

Pts Difference

Points

Ireland

5

4

0

1

113

8

France

5

4

0

1

69

8

Italy

5

3

0

2

-12

6

England

5

2

0

3

39

4

Wales

5

2

0

3

-9

4

Scotland

5

0

0

5

-200

0
It was a sell-out in Ireland because they had to do the same as the men - they had to beat Scotland by at least 21 points to win the Championship and they did it.
So it's just been an absolutely superb Six Nations and really has put women's rugby on the map.
I've been trying my best since I started playing, and especially since I retired, to raise the profile of the game.
I didn't start playing until I was 18 at university, but now girls are playing rugby at school, there's touch rugby, tag rugby so the skills are developing from a very young age.
That is starting to translate and come through... people now can't believe the standard, the physicality and the fitness of the girls.
Italy and Ireland shining examples
Italy have made great progress, beating Scotland, France and then Wales to finish third in the table - they've been working very hard on their club structure.
They've got more women players playing rugby now in Italy than we have in Wales and Scotland.
The game has grown so much there but what Wales need to address - as I said in my last column - is the club structure.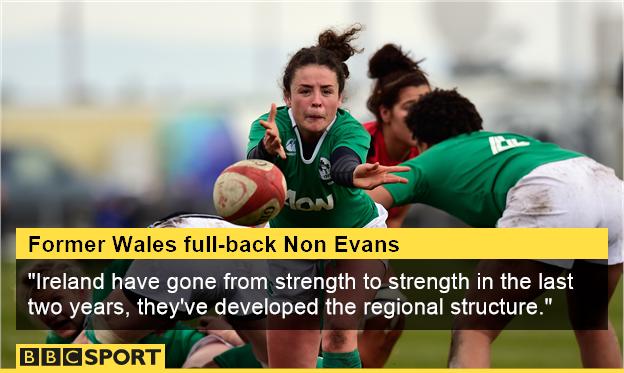 They've got regions the same as the men - Dragons, Ospreys, Scarlets and Blues - but they only play each other twice a season and the clubs are of quite a poor standard.
Ireland have built and gone from strength to strength in the last two years, pulling off probably the biggest shock in the history of women's rugby when they beat the world champions New Zealand in the World Cup last summer.
They've developed the regional structure there, but the standard of club rugby is higher in Ireland as well.
They're working on it in Wales but it needs support from the Welsh Rugby Union, and I think because they did beat England and did well in the first two games I think they will perhaps get more support.
The WRU has now employed Caroline Spanton full time as women's rugby manager and she's working on the development of the game.
It's the first time there's been a full-time role for someone covering women's rugby in Wales.
We've all had male coaches, which I don't think is a problem, but there are girls doing their coaching badges now, so perhaps one day we'll see a woman coaching Wales rugby like England have with Nicky Ponsford at the moment.
Non Evans was talking to BBC Wales Sport's Bruce Pope