Matt Symons: London Irish sign Chiefs lock
Last updated on .From the section Rugby Union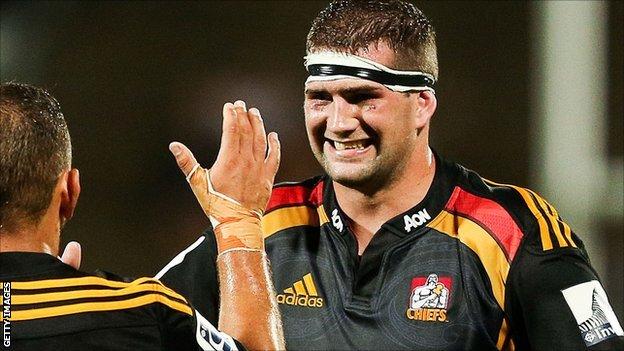 London Irish have signed lock Matt Symons from New Zealand club Chiefs on a "long-term" deal.
Symons, 25, moved from England to New Zealand to play amateur rugby before establishing himself with the Chiefs.
Tom Coventry, Irish's new coach next season, is currently part of the New Zealand side's coaching team.
"Matt is a very good second row forward now," Exiles executive director Bob Casey told BBC Radio Berkshire. "I think he can be an international."
Casey continued: "We've been tracking him properly for a year. It was a big decision on his part and he believes in what we are doing.
Analysis from BBC Radio Berkshire's London Irish commentator Chris Egerton
"This is a big call from Matt Symons, who if reports are to be believed, had the option to play for New Zealand, but the Reading University graduate and former international rower has said no.
"His arrival is undoubtedly Irish's most eye-catching capture so far, even surpassing Scotland and Lions full back Sean Maitland and current All Black Ben Franks. There are more signings to be announced.
Do not be surprised either if Symons - noted for his mobility and lineout work - features in England's World Cup plans, however late his arrival. He is that good."
"He's a leader. For any 25-year-old Englishman to be a co-captain of the Chiefs says a lot about the character of the individual.
"In terms of the significance of the signing for the long-term future of the club, it's certainly as big as some of the others."
Symons, who was once part of Great Britain's Rowing World Class Start programme, used to play for Esher in the Championship before moving to New Zealand. He will be available from next season and is thought to have signed a three-year deal.
"It was a really tough decision to leave one of the best Super Rugby teams in the competition but the opportunities that London Irish offered and the chance to return home were very compelling," he said.
"The new coaching set up at London Irish is exciting. I had made my decision before they had established the management team, but having worked with Tom Coventry at the Chiefs I know he will be a massive asset to London Irish."