Six Nations 2015: Leigh Halfpenny should be moved to wing - Thomas
Last updated on .From the section Welsh Rugby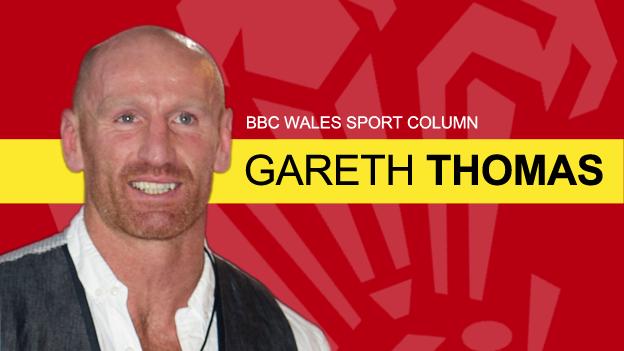 In his latest column, former national captain Gareth Thomas sums up Wales' Six Nations and reflects on:
- Why he thinks Liam Williams should start at full-back, with Leigh Halfpenny moving to the wing.
- The homophobic tweet sent to Welsh referee Nigel Owens.
- Wales' World Cup hopes.
It was an amazing Six Nations and the last day was just crazy.
Any tournament where on the final day you have the possibility of four teams that could win it means that the teams that are in that tournament have got a lot better. The standard of rugby has got stronger and stronger and this year has been probably the best Six Nations that probably most people can ever remember.
WALES HAVE A 'PLAN B'
I think in the second half against Italy we proved that we do have a plan B.
We can throw the ball around, score tries and play an attractive, culturally Welsh style of rugby.
Also, I think we've learned there are players that can influence that. The likes of Liam Williams the full-back, Scott Williams and Justin Tipuric are usually the players sat on the bench when we have a plan A. If we need to have a plan B then they are the players that can come on and implement it. So we've learnt a lot, not only about the way we play but also about our individual players as well.
LIAM WILLIAMS AND THE BACK THREE
It's really competitive but for me the one person that stood out was Liam Williams, which is ironic because at the start of the tournament he was the one missing out on the starting XV. Now with his performances I think he's cemented his place within the back three.
I actually prefer him at full-back because he's much more of an attacking running threat. That then spreads throughout the team because if the ball is going to be kicked to the full-back and there's a higher chance of him running, a lot of the team are a lot more attack-minded because they've got to get back to support a potential running full-back rather than a kicking full-back.
You obviously have to have Leigh Halfpenny in the back three for his kicking ability, but maybe his attacking ability is best suited to the wing.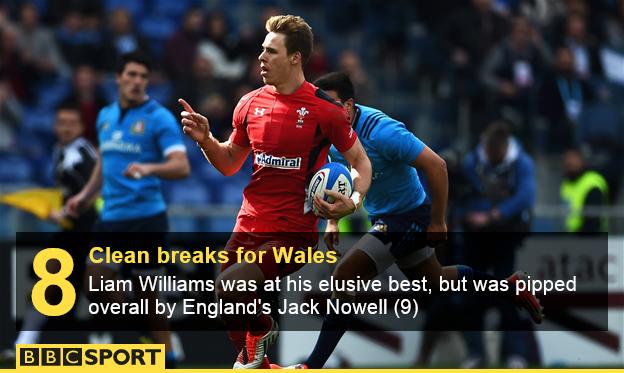 The thing is at full-back, people are running straight for you so you do have to have a proper technique and I think it's shown on a few occasions that his technique is a little bit flawed. It's sad because he's getting injured from a bad technique.
There's cause for concern there, just for one for his personal welfare, but also potentially missing tackles because he's putting his head in the wrong place all the time.
I think maybe he's favouring one shoulder over another.
AFTER REFEREE NIGEL OWENS RECEIVED A HOMOPHOBIC TWEET
Sometimes people have strange agendas and think they can say things and get away with it. It's disgusting and wrong and 99% of society would disagree, but unfortunately we do live in a society where there's always going to be a 1%.
Every sport is going to have a case of somebody disagreeing with a refereeing decision or playing decision then they feel that they can kind of hide behind a keyboard and abuse people, but as long as action is being taken against these people then that's the only way we can move forward with it.
WALES' PROSPECTS AT THE WORLD CUP
Wales have a great opportunity. The big game for them is going to be England because they've turned Twickenham into a bit of a fortress.
The confidence they can take from beating the best team in the northern hemisphere [Ireland] and beating them in a heroic manner, I think they are in a good place. They will go into the warm-up games not really looking to show much.
They'll want to be the fittest, strongest, rugby-playing nation in the World Cup. I'm glad they play Uruguay first because in the last couple of Six Nations we haven't really started tournaments well.
I speak to the boys - they train extremely hard, so you know that that's going to be a big aim for them. I'm sure they'll be pushing themselves to the limit for the next couple of months in preparation. I'm sure they won't be let down by their fitness and it's something they can be confident on is using their strength.
Gareth Thomas was speaking to BBC Wales Sport's Rob Westall