Matt Symons: London Irish signing eyes late England charge
Last updated on .From the section Rugby Union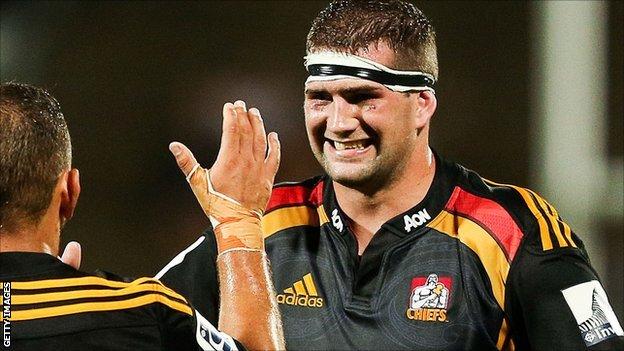 New London Irish signing Matt Symons says the chance to play for England was a key factor in him signing for the Premiership club next season.
Symons, 25, moved from England to New Zealand to play amateur rugby before establishing himself with the Chiefs.
"I am English at heart and that was one of the key factors," Symons told Radio Sport in New Zealand. "It will be good to go home and push my case there."
Symons, who was once part of Great Britain's Rowing World Class Start programme, used to play for Esher in the Championship before moving to New Zealand.
He will be available from the start of next season and is thought to have signed a three-year deal.
Analysis: BBC Radio Berkshire's London Irish commentator Chris Egerton
"This is a big call from Matt Symons, who if reports are to be believed, had the option to play for New Zealand, but the Reading University graduate and former international rower has said no.
"His arrival is undoubtedly Irish's most eye-catching capture so far, even surpassing Scotland and Lions full-back Sean Maitland and current All Black Ben Franks. There are more signings to be announced.
"Do not be surprised either if Symons - noted for his mobility and lineout work - features in England's World Cup plans, however late his arrival. He is that good."
He revealed there had been talks with New Zealand with regards to playing international rugby, but is eager to wear the white of England.
"I've had a little bit of dialogue (with New Zealand) but not too much - I've just been focused on playing well for the Chiefs," he added. "I don't want to blow it out of proportion but it's good to be wanted.
"I had a couple of training camps (with GB Rowing). I never wore the colours, it would be huge. That was always the dream growing up and I guess that was one the main factors. All the boys here have that All Black dream and mine was a bit different, but there is a long way to go."
Symons, who turned down other offers in the Premiership, says he is "excited" at the prospect of playing for Irish next season, where he will be joined by current Chiefs coach Tom Coventry.
And Irish's interim head coach Glenn Delaney has welcomed his arrival, telling BBC Radio Berkshire: "He's got the potential to be very good and has aspirations to play for England.
"He's playing at the highest level in Super rugby and is one of the key performers. He is possibly one of the most exciting young English players that people in England have never heard of."