2015 World Cup: David Lyons tips Wales and England over Australia
Last updated on .From the section Welsh Rugby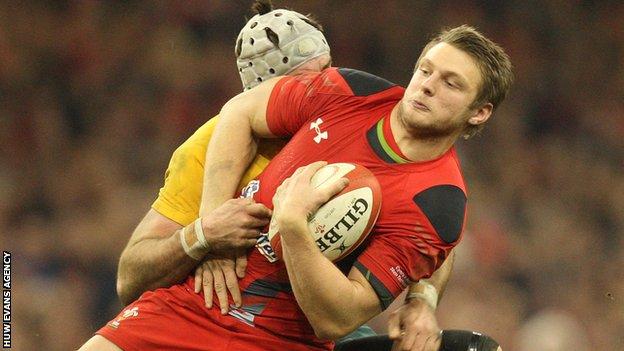 Former Australia number eight David Lyons says Wales and England are likely to beat them to the 2015 World Cup quarter-finals.
The three nations face each other, plus Fiji and Uruguay in Pool A at the autumn tournament.
Two teams qualify from the pool and ex-Scarlet Lyons says the Wallabies' pack must improve to achieve that aim.
"England and Wales coming off the back of a very spirited, tough Six Nations, are probably the favourites," he said.
"Australia's big pressure now is to get the hard-grafting work right, to get their set-piece right, to get the forward play right.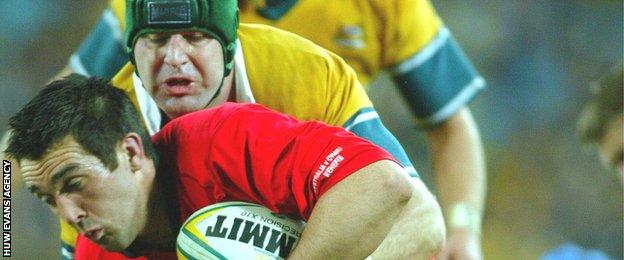 "And if they can do it, I don't think anyone's got any doubt that they can match it with England and Wales."
England lie fourth in World Rugby's rankings, while Wales rose to fifth during the Six Nations, climbing above the Wallabies.
Lyons, 34, was in Australia's back-row when England beat them in the 2003 World Cup final in Sydney.
He went on to play at the 2007 tournament in a 44-Test career before joining Scarlets in 2008.
Lyons left for Stade Francais in 2011, but has been dogged by knee injuries there this season.
He watched the memorable 2015 Six Nations finale unfold last weekend and believes the performances of winners Ireland, England and Wales will have made the major southern hemisphere teams wary ahead of the World Cup.
"The last Saturday did absolute wonders for rugby in the northern hemisphere," Lyons told Scrum V.
"I know that people in the southern hemisphere really took notice of that... there'll be a few more teams with a bit more fear of teams in the northern hemisphere than there were before."
He says the leading European teams proved they can follow the example of reigning world champions New Zealand.
"They did the tight stuff well, but when it was on to play, they played," Lyons said.
"And that's why the All Blacks are the consistently the best side in the world because they can concentrate on both areas of rugby."
Lyons says Australia have lacked consistency on and off the field, with coach Michael Cheika having only taken up the role in autumn, 2014.
And while Lyons fears for Australia, he is confident they will improve for the World Cup with ex-Leinster boss Cheika doing "wonders".
"But we're definitely, probably off the other two [Wales and England] at the moment with them playing in their own back yard," Lyons added.