Rugby World Cup: Debbie Jevans resigns as boss of 2015 organisers
Last updated on .From the section Rugby Union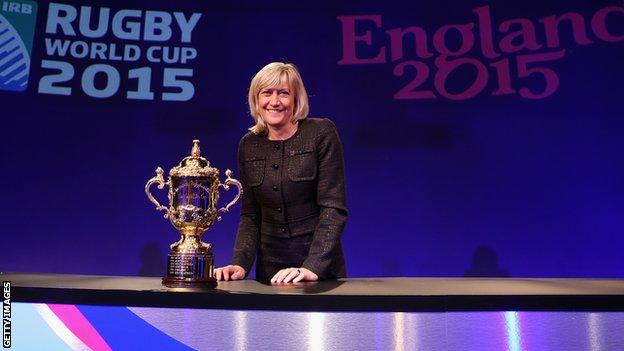 Debbie Jevans has resigned as chief executive of England's World Cup 2015 organising committee, citing personal reasons.
A Rugby World Cup organising committee statement said Jevans leaves "with plans in excellent shape" and more than "1.9m tickets sold".
Jevans said: "This is the right decision for me to make at this time."
Ian Robertson, Radio 5 live rugby correspondent:
"It was certainly a surprise. Perhaps it wasn't totally unexpected. Rugby has its own heritage, tradition, ethos, moral code and history. It is a club that is not always easy to infiltrate. Debbie Jevans has not had an absolutely smooth ride all the way through. Feathers, since she was appointed in October 2012 after the Olympics to run RWC, have been ruffled. It has not been all sweetness and light and has culminated, for personal reasons - whatever they are - for the break to come. You would think it is very disappointing but in fact a lot of the work has been done. They have sold 1.9m tickets out of 2.3m. Everything is going well. Stephen Brown is a very safe pair of hands. It couldn't be in better hands. There is no panic at all."
Stephen Brown will become the new managing director and working alongside chairman Andy Cosslett.
Cosslett said Jevans' "legacy will be seen during and after the tournament is delivered".
Jevans added: "I am immensely proud of the team and all that we have achieved in the time that I have been chief executive.
"Everything is in place to ensure that this is the best Rugby World Cup ever, and I am confident my team will deliver an exceptional tournament."
The 48-match tournament begins on 18 September when England play Fiji at Twickenham.
Debbie Jevans career factfile
As Director of Sport for the London Organising Committee of the Olympic Games (Locog), Jevans was responsible for delivery of all aspects of the sporting events, medical and anti-doping programmes.
Previously she ran her own sport consultancy firm, working with clients that included the International Tennis Federation, the British Broadcasting Corporation, the International Rugby Board, International Cricket Council and UK Sport.
Jevans is a member of the All England Lawn Tennis Club's Committee of Management and Championships Committee and sits on the UK Sport Major Events Panel.