Cornish Pirates: Ian Davies has no sympathy for Plymouth Albion
Last updated on .From the section Rugby Union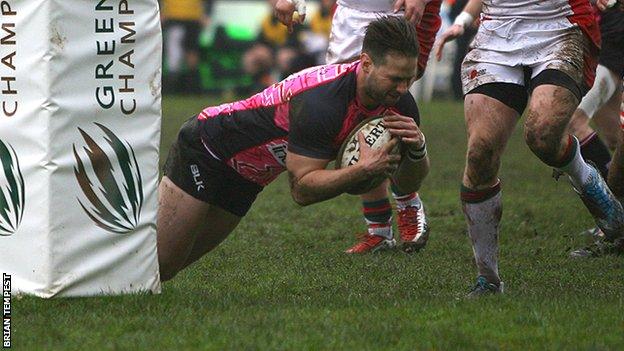 Cornish Pirates boss Ian Davies has no sympathy for Plymouth Albion's plight at the bottom of the Championship after his side beat them 27-16 on Sunday.
Kieran Hallett, Chris Morgan and Paul Andrew scored tries for the Pirates, while Eoghan Grace crossed for Albion.
"If they get relegated, they get relegated, if they stay up then we can continue to play derbies," Davies said.
"I don't understand why we give them sympathy and some of our supporters hoped that they'd win."
Albion last beat Pirates in April 2010, a run of 11 successive defeats. The Plymouth side are now seven points adrift at the bottom of the Championship after Moseley picked up two bonus points in their 32-26 loss to Rotherham.
"It's absolutely ridiculous, it's a professional game and we're out to win games, that's what it's about," Davies told BBC Radio Cornwall.

"We won, they lost, they move on to next week.
"The boys know that when we lose I'm not exactly a nice guy come Monday morning, so if they want an easy life they win the games.
"We've been turned over too many times at the Mennaye this year, so we were doubly determined to put in a nail in the coffin, for want of a better phrase."
For Albion the defeat, coupled with Moseley's bonus points, means they must get a win and at least two bonus points from their final three games, against leaders Bristol, Moseley and third-from-bottom Doncaster, to stand a chance of survival.
"We've got to keep fighting, I know we're seven points off Moseley and we've got three games to go, but there's a lot of rugby to be played and there's a lot of points there," Albion head coach James Shanahan told BBC Radio Devon.
"I know one of them's against Bristol at home but Pirates had a great win against Bristol at the Mennaye so we've got to have that belief and back ourselves.
"We're not quitters, we're going to keep fighting and we've got to look forward to the challenge of Bristol and hopefully get a result there and still be fighting for Moseley the week after.
"There's a lot of history at the club, over 100 years, a lot of people have put that Albion shirt on and we're playing for them and we need to play with a lot of pride and need to step up."