Justin Burnell reflects on London Welsh tenure
Last updated on .From the section Rugby Union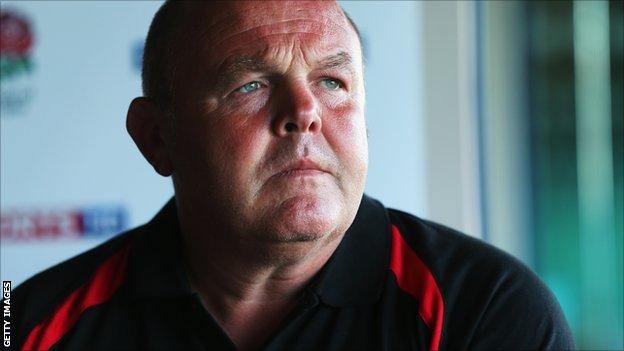 Former London Welsh head coach Justin Burnell believes the recently-relegated club are well placed for life back in the Championship.
Burnell was sacked in March after Welsh lost 27 straight games but says he has no regrets from his time at the club.
And he believes he has left them in good shape despite the challenging season in the Premiership.
"It's a disappointing way to end it but what I can't forget is we've had a fantastic time there," said Burnell.
Speaking to BBC Sport, Burnell reflected on his two years as head coach of the club:
He believes they were not competing on a level playing field

His memories of the the club have not been tarnished by his dismissal

Backs the club to do very well in the Championship next season

Eager for an immediate return to coaching
Were London Welsh doomed from day one?
Welsh recruited 25 new players at relatively short notice and received in the region of £2m less than clubs who have been in the Premiership since its inception.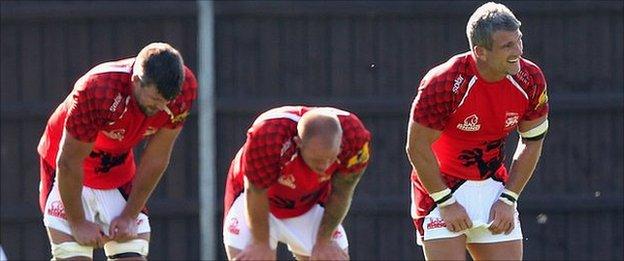 "It is very easy to look at results, which people have. Obviously when people are then also supporting the fact that it's an unlevel playing field: the preparation time, how late the final was, the recruitment, and obviously I guess the biggest thing, when you're £3m adrift of the salary cap. That's not including any of the marquee signings and that's just what's out there in the press and what London Welsh have said themselves."
Has the poor season tarnished your memories of the club?
Having taken over from Lyn Jones as London Welsh coach in June 2013, Burnell led the club to promotion into the Premiership after a memorable season in the Championship.
Burnell pointed to the success and development of past and present players under his tenure as something take pride from. In particular Mitch Lees (Exeter), Chris Cook (Bath) and Carl Kirwan (Worcester-bound) as well as Pete Browne, James Down, Taione Vea and Opeti Fonua.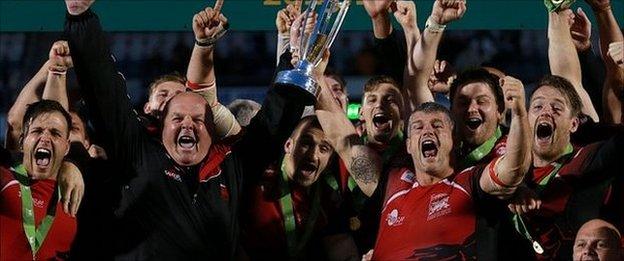 "It's easy to look at the results but when you look at these players and the majority of them - if not all of them - are the ones who have texted and said thank you, so that's a big thing. We have to remember the good work we've done. Those players now also going into Premiership clubs came to us on minimum contracts and now after a year of development with us have now moved forward."
How will London Welsh fare in the Championship?
Welsh were relegated on Sunday after their 18th straight defeat in the Premiership, having lost all their games. Several players have left and will be departing at the end of the season.
"I think they'll do really well. Their director of rugby Steve Lewis is a very shrewd character, he's a very good businessman, he's very good within the recruitment of finding the players that are missing out in the Premiership and are willing just to have an opportunity on minimum contracts. I also think the chairman Bleddyn Phillips, as we've seen over the last couple of years, will try and turn over every single stone to ensure that London Welsh get what they rightly deserve."
What next for Justin Burnell?
Burnell has been coaching for several years and made his name as forwards coach and then head coach at Cardiff Blues and he is eager to return to rugby.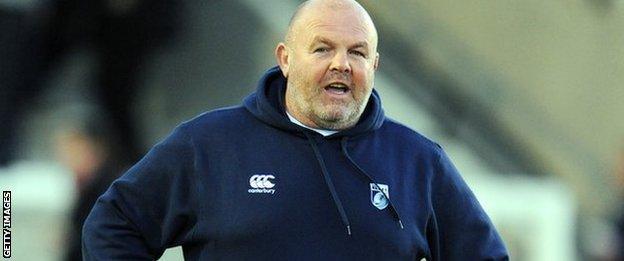 "It's that time of season now, coaches are moving around, so for me now it's just about finding that right opportunity. I've had a fantastic time in London, living in Richmond for the last two years, so whatever opportunities now arise I've got to make sure we choose rightly. It's been a fantastic two years, I've got absolutely no regrets whatsoever."
Should London Welsh stay at the Kassam Stadium?
Crowds have been poor at London Welsh's home in Oxford and some supporters have suggested the club returns to their traditional base at Old Deer Park.
"I haven't got an allegiance to any side. I can understand the debate from both parties of supporters. I guess at the end of the day without the supporters a club will never survive - that's the biggest thing they have to consider."
Were you shocked by your sacking?
Burnell was replaced by Rowland Phillips, who initially arrived at the club at defence coach.
"I think it's the nature of the job. To be honest with you it's been very overwhelming. I've had a lot of phone calls from a lot of the players, which was really nice and reassuring. Also then the amount of texts from the supporters and sponsors and also a couple of the board members. That's been the biggest surprise to me - the amount of people who have picked up the phone.
"The other thing is from fellow Premiership coaches as well, I've had quite a lot of texts from them, saying 'good luck for the future.' I've got to get my appreciation of sponsors, players, a couple of board member across and don't forget Gordon Ross, Matt Ferguson and Ollie Smith have been a pleasure to work with."
Tough at the bottom

Season

Bottom team

Number of league wins

Points difference

League points

1997-98

Bristol

2

-382

4

1998-99*

West Hartlepool

3

-506

7

1999-00

Bedford

1

-406

3

2000-01**

Rotherham

2

-478

12

2001-02

Leeds

6

-248

28

2002-03

Bristol

7

-129

34

2003-04

Rotherham

0

-461

3

2004-05

Harlequins

6

-43

38

2005-06

Leeds

5

-210

27

2006-07

Northampton

6

-157

33

2007-08

Leeds

2

-396

12

2008-09

Bristol

2

-338

17

2009-10

Worcester

3

-108

28

2010-11

Leeds

4

-275

23

2011-12

Newcastle

6

-178

32

2012-13***

London Welsh

5

-207

23

2013-14

Worcester

2

-256

16

2014-15 to date

London Welsh

0

-829

1

* 14 teams in league; ** introduction of four-try and losing bonus points; *** London Welsh deducted five points for fielding ineligible player
Reporting by BBC Sport's Jenna Hawkey