Edinburgh's Roddy Grant on elusive cap & Glasgow rivalry
By Jamie Lyall
BBC Scotland
Last updated on .From the section Rugby Union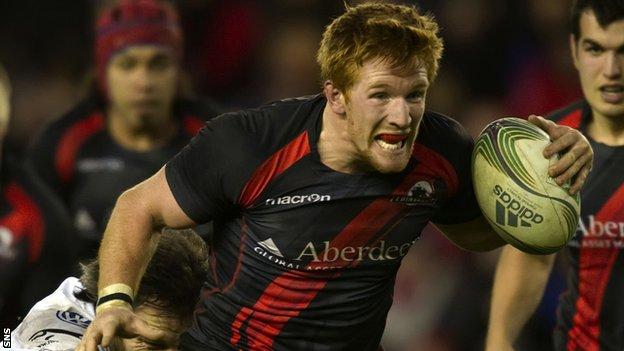 European Rugby Challenge Cup: London Irish v Edinburgh
Venue:
Madejski Stadium
Date:
Sunday, 5 April
Kick-off:
17:45 BST
Coverage:
BBC Radio Berkshire and BBC Sport website
From a hospitality box embedded deep in the top tier of the national stadium, Roddy Grant gazes out across the sun-kissed Murrayfield turf.
The Six Nations is over, the hubbub subsided. The place is quiet now, the cavernous bowl of blue and purple deserted but for a handful of his Edinburgh team-mates kicking for goal to conclude a gruelling midweek session.
"It's still the dream," says the 28-year-old. "Does it feel close? No. It feels a long, long way from happening."
The flanker, of course, is referring to the senior international cap that has eluded him.
The Scotland A and Scotland sevens player has graced the national stadium more than many of the players in the current Scotland squad, but in the black and red of Edinburgh, rather than the dark blue.
Grant's Edinburgh team-mate Hamish Watson and Hugh Blake have been Scotland head coach Vern Cotter's picks to deputise for first-choice openside Blair Cowan in recent squads.
"Every time things have rolled around, I've thought I might be in with a chance," explains Grant. "I've been playing well, I've been starting, and it's been a real disappointment.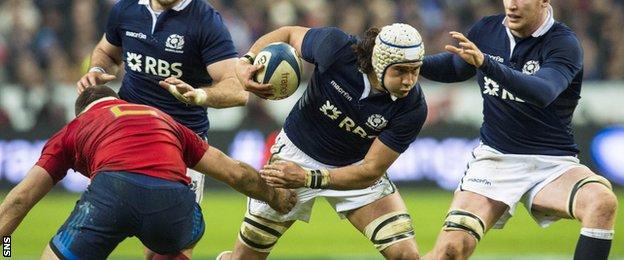 "The frustrating thing for me is a lot of guys have had opportunities, and they've taken them and that's great. I'm sure the guys deserved those opportunities.
"I haven't had that opportunity, just one chance, but what can you do? I said to the coaches, 'I want to be in the shop window, just to show you'.
"It's looking difficult now to get a cap - put it that way. It probably has passed me by. I'm still there, I want it - I can't stress that enough - but the opportunities are probably less now.
"Along with the birth of my daughter, playing for Scotland would be the best thing to happen in my life. I'm old enough now that I'm proud of what I've done, and there's still a lot to do at Edinburgh."
Born in Botswana to Scottish parents, Grant grew up dining on haggis and donning tartan trousers. The family moved to Cape Town, then Durban, where he attended the prestigious Hilton College.
Sport was mandatory. Rugby was religion. Among Hilton's alma mater are ex-Springboks captains Gary Teichmann and Bob Skinstad. Scotland's cricket skipper, Preston Mommsen was Grant's class-mate.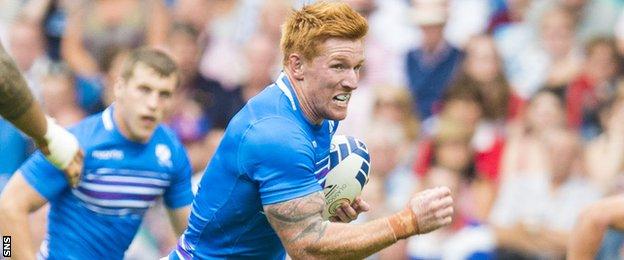 It was at Hilton under the tutelage of Tony Richter, who remains the school's head of rugby, that Grant began to carve out his career.
"Tony was the biggest influence on my rugby - he was the turning point in my career," Grant says. "My first Edinburgh jersey I had framed and presented to him.
"It was my choice to go there - my parents didn't ship me off, they didn't really want me to go, but I knew about the school. It was a very expensive school. We weren't the wealthiest family - they sacrificed a lot to get me there.
"They follow everything, every single game I've played in my life they've followed immensely. They're not pushy, they're not loud, but it's probably one of the best things as a kid to play knowing your parents are watching and proud of you.
"Our big derby games we'd get 10,000-15,000 people, which creates a culture and gives you a taste of that 'big-match'. At Edinburgh, we don't often get those crowds. The culture and history isn't lost on the guys - legends still come back and watch school games. It's a culture of trying to achieve.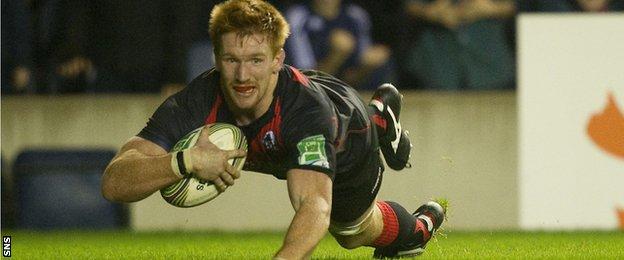 "School games are televised, people in the street know about big names in schoolboy rugby. That definitely helps you as a player - it's tough if you're not so tough, there's an argument that things shouldn't be that tough in school. The pressure definitely hardens you up and prepares you for professional sport.
"You know, when you get your first cap, they give you two jerseys - I would love to present Tony with mine, if it ever comes."
Following an apprenticeship at Gala and a brief spell at the now-defunct Border Reivers, Grant turned down an opportunity to study law before joining Edinburgh in 2009.
Incumbent Alan Solomons is the fourth head coach Grant has played under. The team finished eighth in the Pro12 last season but are well placed to achieve a higher placing this term.
"This is the tightest I've felt Edinburgh in all my years," he says. "We've had a lot of overseas guys, but it's the culture, we've got key guys who have been here a while.
"It's come from the top as well, Solly's been a huge part of creating this environment. When you get guys in, it doesn't matter where they're from, they fit into that environment, and if they don't, they're out.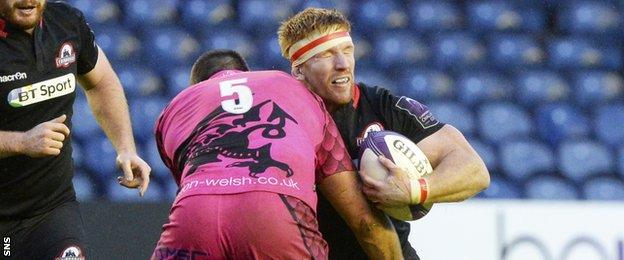 "We've got a brand now, defensively we've got an identity, we're very physical."
Along the M8, Glasgow Warriors have gone from strength to strength, culminating in last season's Pro12 final appearance. However, Edinburgh came out on top in this season's league double-header between the two sides, which doubles as the 1872 Cup final.
"We're sick of hearing about them," says Grant. "But as much as guys argue or complain, they've been the better performing team than us for years now, which makes it more frustrating for us being here.
"The 1872 Cup was one of the best moments of my Edinburgh career. We've wanted that so long and worked so hard for it. Do we think we're not as good as them? Not a chance! But figures and stats show they are the better team.
"That's our drive - to be the number one performing team in Scotland."
Edinburgh tackle London Irish on Sunday in the knowledge that victory would assure them a home Challenge Cup semi-final. The mention of what may prove a season-defining fixture as the club chases Champions Cup qualification prompts Grant to adopt a more pensive air.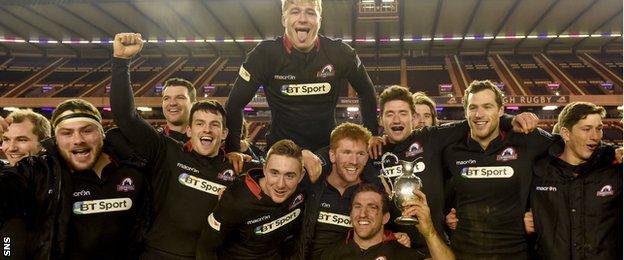 "I've been here a while - I've had some highs, but not as many as I'd like," he adds.
"We've been through a lot this season, it would mean a lot to the squad. It would be awesome for the club. We've had a tough couple of years, and it would be a bit of a reward."