Glasgow Warriors spirit helps Peter Horne on road to redemption
By Jamie Lyall
For BBC Scotland
Last updated on .From the section Rugby Union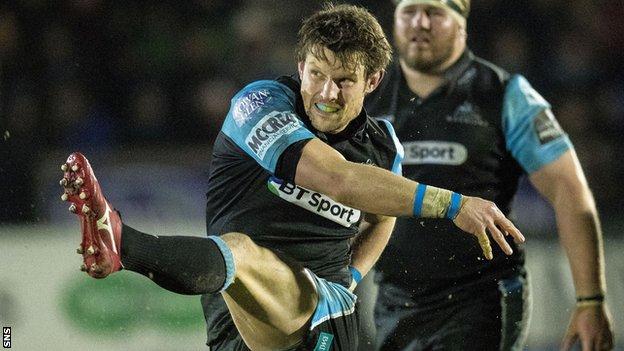 Peter Horne will tell you professional sport is a capricious master: in the same breath, a platform for lavish praise and damning condemnation.
Everything can change with one act, one flash of genius, one lapse in concentration. One mishit kick.
Lauded for a fine spell at the hub of Glasgow Warriors' playmaking midfield, Horne was rewarded with a maiden Six Nations start against Italy, before friends and family and an expectant public.
"It was the proudest moment of my life belting out the national anthem," says the 25-year-old.
Named at fly-half in place of suspended Finn Russell, his grandest hour turned nightmarish as he fluffed a late clearing penalty, allowing the Azzurri to mount their decisive raid on the Scottish rearguard and claim a punishing victory.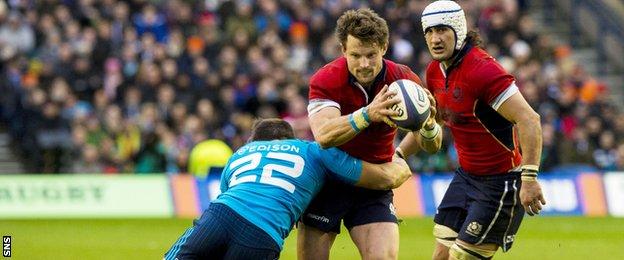 Horne's legs had been tight and aching, the muscles screamed as he stepped forward. His punt was miscued, landing well infield. The TV replays show his face twist, wrought with anguish and agony, clutching a strained calf amid the Murrayfield drizzle.
"I was gutted; I remember feeling annoyed with myself, like I'd let everyone down," he continues. "I was absolutely ecstatic to be involved and unfortunately making a terrible error like that and kind of costing us the game has put a real damper on it all."
The now-infamous missed touch would prove his last act of the championship as head coach Vern Cotter dispensed with his services for the remaining fixtures - defeats by England and Ireland.
"After you've made a horrific error like that, you're desperate to park it and have a positive influence with your next touch," Horne adds.
"I was distraught after the game; it took me a while to get over that. We live by our actions. It was a terrible error and it cost me my jersey for a while.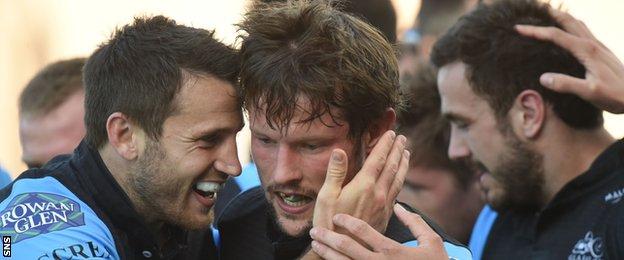 "It was great when I went into the changing-room that night. My phone was going off non-stop - all the boys at Glasgow, some people in my life that I really respect, had got in touch with me saying look, it's a mistake, these things happen, don't worry about it."
Horne may have required scraping off the canvas, but over the years he has assembled a formidable network of support. He has always thrived on unity; bonds forged through friendship and sport have provided his sustenance.
Family is a constant theme to his narrative - be it his parents at home in Cupar, his little brother, George, a shining light in the national under-20s, his old pals from the Howe of Fife club, or his team-mates at Scotstoun.
"That's what I love about this club - it's like a big family," he enthuses. "There's not actually many of us from Glasgow, so when you come here, you dive into it, you make friends straight away.
"Because we don't all necessarily have a bunch of friends that live in Glasgow, we've all got each other. There's always something going on, people are always organising things. It keeps us all close-knit. We have a lot of fun.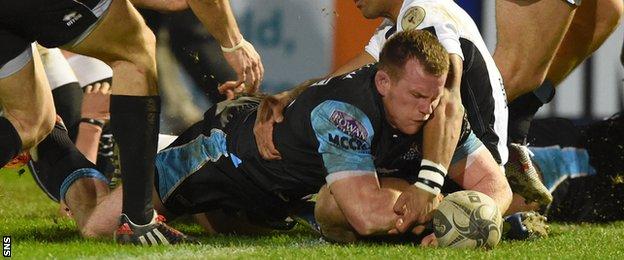 "When you've got 23 guys desperate to do well for each other, it really helps when push comes to shove. Over the past few years, we've built the belief we can beat anyone."
Horne's own ebullient conviction stems from a remarkable junior career, culminating in a hat-trick of trophies for his school, Bell Baxter High, the first state school to lift the Schools Cup in a decade, and club, Howe of Fife, in season 2006-07.
The all-conquering youngsters, a team that included fellow Warrior and Scotland cap Chris Fusaro, were guided chiefly by Horne's father, Garry, who trained his elder son since Primary Three and remains head coach at Howe.
In the years that followed, Horne found himself playing alongside his heroes - men he'd controlled on his PlayStation. Men like Lome Fa'atau, the Samoan speedster who spent two seasons with Glasgow.
"Peter Wright got me a game playing for Glasgow's back-up team when I was 17-18," he says. "It was so cool. I used to love playing with Lome on all the video games because he was rapid.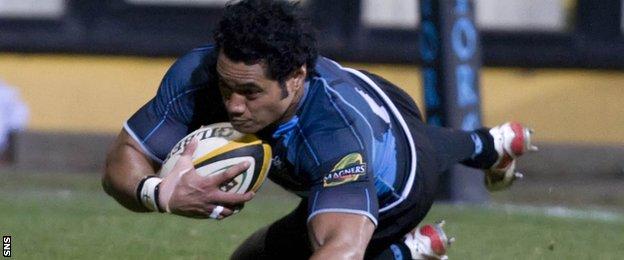 "I looked around: there was Lome on the wing, Hefin O'Hare, Colin Gregor, Max Evans, Scotty Barrow, Donnie Macfadyen. I'd played with all these guys on the rugby games, especially Lome, and to suddenly be taking an inside ball off him was quite a surreal moment."
The vitriol and spite that followed the Italian debacle were novel and wounding. But Horne is no stranger to battling adversity, having overcome a horrific knee injury during the summer of 2013 that sidelined him for nine months.
So when that fickle sporting overlord afforded him the prime opportunity to exorcise his demons, he was ready. In a uniquely symmetrical twist of fate, Russell tweaked an ankle the morning of the Warriors' crucial clash with Leinster in Dublin two weekends ago.
Horne, as before, was drafted in at number 10, orchestrating 40 minutes of spellbinding rugby as Glasgow dismantled their hosts then imploded after the break to trail by seven points in the dying minutes.
The Fifer floated a gorgeous looping pass for Glenn Bryce to score in the corner then, with the Irish gale buffeting the ball on its tee, the rain lashing his face and the whistles of 16,000 Dubliners ringing in his ears, he struck the brilliant conversion that tied the match.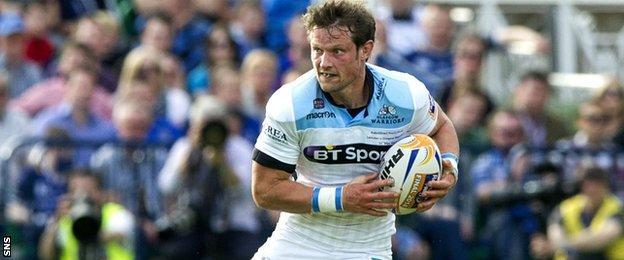 "The last thing I'd done in everyone's mind when it comes to kicking was missing touch against Italy," he says.
"I was out having lunch with my girlfriend, Kirsten, the other day. A lady came up and tapped me on the shoulder: 'Are you Peter Horne? Did you play at the weekend? That was a great kick at the end. I was out of my seat cheering you guys on and I'm not even a rugby fan'.
"It was really nice, these little things. There are so many people in Glasgow getting behind the team now.
"Hopefully people will cut me slack for a few weeks after that."