Edinburgh: Alan Solomons bemoans depth of squad after loss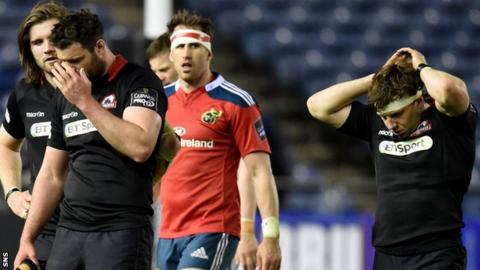 Alan Solomons bemoaned Edinburgh's lack of depth after Saturday's 34-3 humbling at the hands of Munster.
Prolific scrum-half Sam Hidalgo-Clyne was a late omission from the team, while a head knock forced Dave Denton off after 12 minutes.
The duo's troubles add to the list of pivotal first-team regulars currently sidelined.
"For us to compete with these sides, we need to be at full strength," said head coach Solomons.
"We had six players out and they were at full strength, so if you consider we had Grant Gilchrist out, Mike Coman out, Cornell du Preez out, we lost Denton, we had Matt Scott out and we had Sam Hidalgo-Clyne out.
"I'll take six of their players out and then we'll see what the game goes like. We don't have that strength in depth.
"The English sides are complaining about the French sides having big budgets - well we've got a much smaller budget than Munster, than any of the Irish sides and certainly the English sides."
The South African confirmed Hidalgo-Clyne and club captain Coman will be available for selection for Friday's European Challenge Cup semi-final against the Dragons.
However, Denton's fate remains unclear. Were he to be diagnosed with concussion, World Rugby's graduated return to play protocols dictates he can feature again in no sooner than six days.
"When Dents went off, it made a massive difference to us," continued Solomons. "We ended up with three openside flanks playing. So we had no lineout presence, we were unable to contest their lineouts and we battled to stem their maul.
"We were under pressure all the time because we lacked possession and we lacked territory.
"We made silly mistakes which cost us and tonight was very difficult for our lineout because we were left with two lineout options. Our lineout was seriously compromised.
"It doesn't make any difference to next week. We know we've got to lift our performance. Those of us that were on the field didn't do justice to ourselves."
Flanker Roddy Grant was rendered particularly sore by his pack's failure to thwart Munster's driving maul, from whence the visitors scored three of their five tries.
"The better team won," he said. "They played a lot better than us in key areas. Obviously the driving maul, we just couldn't stem it.
"They're a very good driving side, but we knew that coming into it and it makes it all the more frustrating to give away tries like that.
"This weekend's going to be pretty grim and we'll wear it quite badly as you do with any loss.
"It's professional sport. We can't afford to mope around on Monday because it's a huge game this weekend.
"We'll look at things, we'll flush it and we'll get onto the next one."