Rob Baxter: Exeter must not get carried away with Northampton win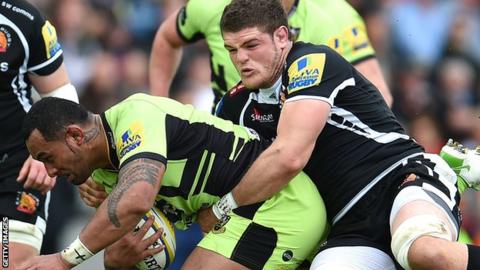 Exeter Chiefs head coach Rob Baxter says his side must not get carried away by their
The win sent Exeter back into the top four with three games left to play as the Chiefs became the first side to do the double over Saints this season.
"The time to enjoy today isn't today," Baxter told BBC Radio Devon.
"The time to enjoy today is a few weeks time when we see whether we've achieved things at the end of the season."
Exeter have a three-point buffer to fifth-placed Leicester and face Wasps, Saracens and Sale in their final three league games.
"What we don't want to do is get a bit carried away with our performance today, which was excellent, and then not turn up next week," Baxter added.
"They knew what they had to do to win, they had to commit a hell of a lot physically and mentally, and they've got to be prepared to do that again next week."
Baxter was also keen to praise his side's defence after the last month.
"You look at our defensive display today compared to Leicester and you'd think it was two different teams," he said.
"We had a team here today who made their tackles, got back on their feet and made more tackles.
"At Leicester we made a tackle, dived in and gave away penalty. It was almost like watching two different teams and I just hope we've learnt our lesson from that and are going to stand and fight like that for the rest of the season."