Northampton Saints: Jim Mallinder wants team to remain ambitious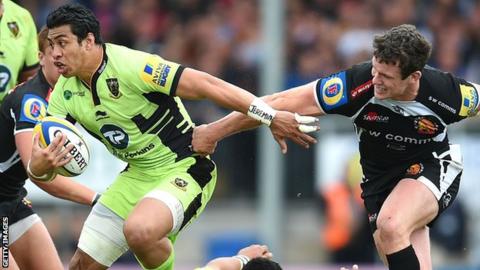 Northampton Saints head coach Jim Mallinder does not want the Premiership leaders to change their style of play despite suffering back-to-back defeats.
Having exited the European Champions Cup after a 37-5 loss to Clermont Auvergne, they were defeated 21-10 by Exeter in the Premiership on Sunday.
"We want our players to play with ambition and move the ball," Mallinder told BBC Radio Northampton.
"We just have to make sure that, at the right times, we look after the ball."
He added: "There were a number of times we made some cracking breaks, only to give the ball away and only to end up 70 yards back downfield, and for a forward in particular that is demoralising."
Despite losing to Exeter for a second time this season, the reigning champions have a six-point lead at the top with three matches remaining.
Saints now have a two-week break before their next Premiership match against Saracens and Mallinder believes it will give his side time to find their form again.
"It will just give us a bit of time to re-focus," he said.
"We do not lose many games, particularly not in the league. It is not a good feeling but hopefully it will inspire us to finish the season well."