Leicester Tigers to play in historic US rugby match
Last updated on .From the section Rugby Union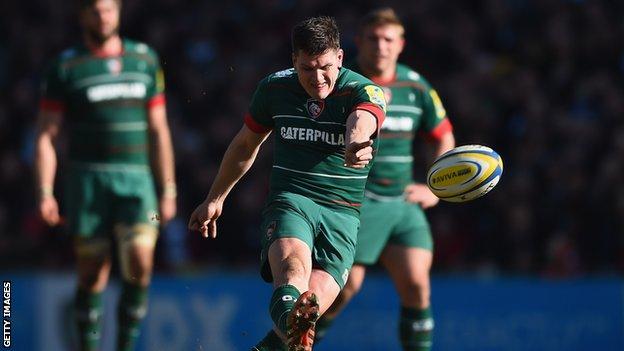 Leicester Tigers are to help launch a professional rugby union league in the US by playing in a historic match.
Richard Cockerill's side will play a combined American team - the Rough Riders - in Philadelphia on 8 August.
The Independence Cup will be the first elite rugby match played in the States by a professional US team.
It will help launch the National Rugby Football League - the first American professional rugby championship - which begins in 2016.
Leicester, the 10-time English champions, will face a team made up of former National Football League (NFL) athletes, college American football players and collegiate, club and international rugby players.
The match takes place at Lincoln Financial Field, home of American football franchise, the Philadelphia Eagles.
Eagles president Don Smolenski said: "This match kicks off the first rugby game for an elite US team against a historic rugby stalwart, the Leicester Tigers."
The match offers a chance for Leicester to raise the profile of the English Premiership in a potentially lucrative market.
"Rugby is making massive strides there and the fixture will provide an excellent platform for the home-based players, and also for our squad as they prepare for a new season," Tigers chief executive Simon Cohen added.