London Welsh: Front-row four all agree new deals
Last updated on .From the section Rugby Union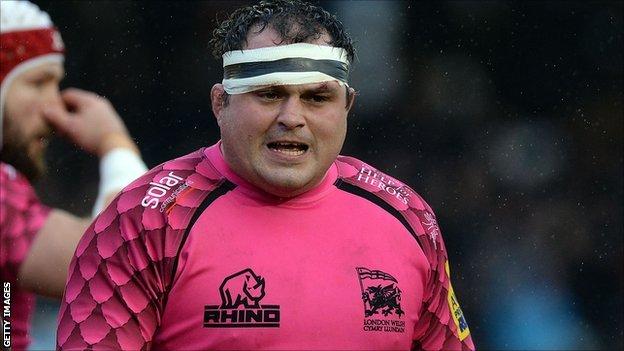 London Welsh front-row quartet Nathan Trevett, Koree Britton, Nathan Morris and Ben Cooper have all re-signed for the recently-relegated club.
The news follows Friday's confirmation that backs Seb Jewell, Alan Awcock, Nic Reynolds, James Lewis and Will Robinson have also committed to Welsh.
Richard Thorpe, Ben West, Ricky Reeves, Jack Gilding, Eddie Aholelei, Jesse Liston and Josh McNally also signed.
"Our pack is beginning to take shape," said director of rugby Steve Lewis.
"We know from experience that the scrum is a fiercely contested aspect of the game in the Championship and a competitive front row is essential, so today's announcement is hugely significant as we prepare to mount our challenge for an immediate return to the Premiership.
"There is a substantial amount of experience in these re-signings and also in the group already in contract, and this will be essential next season."
Trevett, Morris, Thorpe, West, Jewell, Awcock, Lewis and Robinson were all part of the club's 2013-14 Championship-winning season, while Jewell, Lewis and Morris also featured in Welsh's Championship success of 2011-12.