WRU medical chief Prav Mathema in headguard concussion warning
Last updated on .From the section Welsh Rugby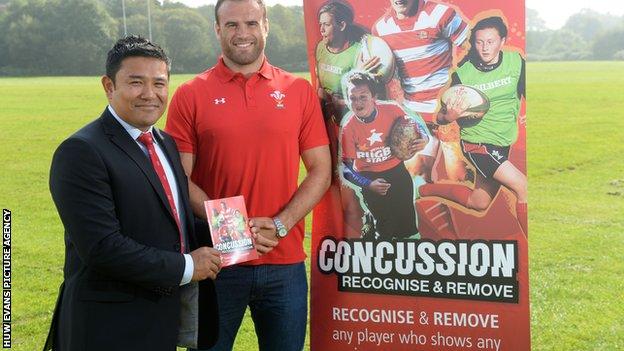 Welsh Rugby Union medical manager Prav Mathema is concerned that players are wearing headguards in the belief they will help protect against concussion.
Player concussion has been a concern this season with the likes of Wales duo George North and Leigh Halfpenny suffering heavy blows to the head.
But Mathema is concerned that headguard wearers may play more recklessly due to a false sense of concussion protection.
"Currently we shouldn't be mandating headguards," the medical manager said.
"There is certainly no evidence to show that headguards will reduce concussive episodes.
"There is research out there that will show that headguards may actually increase concussive episodes."
Headguards will protect wearers from lacerations and 'cauliflower' ears, but these injuries can be classed as minor against receiving a concussion.
As well as the concern over the possibility of long-term neurological problems - which is still the subject of research - concussion is the number one injury in the professional game in terms of the amount of time players are sidelined.
"We also have to learn a lesson from boxing as well, who have actually banned headguards because of exactly that reason," added Mathema.
Halfpenny was treated for concussion in Wales' 61-20 win over Italy in the 2015 Six Nations, after being caught in the head by Samuela Vunisa's knee as the full-back tried to tackle the number eight.
His fellow British and Irish Lion North has suffered several heavy knocks to the head during this campaign, resulting in a concussion diagnosis three times.
The last came playing for his English club Northampton against Wasps - which saw the wing being rested for the whole of April on the advice of a neurologist.
The first occurred in Wales' autumn Test against New Zealand, and the 23-year-old was then struck twice on the head while playing against England during the Six Nations.
The repercussions of North's plight against England saw the WRU criticised for its handling of the player and subsequently tighten its concussion protocols to safeguard the health of players.
Mathema is happy that the procedure used to detect concussion is robust and effective.
These include an initial set of questions given to the player on the field called the Maddocks Test; the medical staff monitoring for signs of concussion that include a dazed look, unsteadiness and confusion; and the option of taking a further 10 minutes off the field to conduct a head injury assessment.
But since the England game the WRU has added extra resources at games to watch for incidents where players are at risk of suffering a concussion - these are not limited to head blows as a heavy body hit can also result in players suffering a 'whiplash' injury.
"Certainly what we found in the incident against England was a gap in our management plan and we immediately dealt with it," Mathema said.
"Following that we implemented a medical spotter with live video replay for away games - we used that successfully in three away fixtures.
"And then at home fixtures now we have a triple spotter system: one for the home team; one independent spotter who looks at both teams who will communicate directly with the match-day doctor; and then we also encourage away teams as well to bring a medical spotter.
"That means we can look at every single incident on the pitch where possible and we can support our medical teams on pitchside, because clearly things can be missed."
The WRU has also tried to raise awareness of concussion at grassroots and amateur level, and this season is offering free three-hour sessions that cover injury assessment and treatment, including concussion.