Edinburgh: Cup final place demonstrates progress - Solomons
By Jamie Lyall
For BBC Scotland at Murrayfield
Last updated on .From the section Rugby Union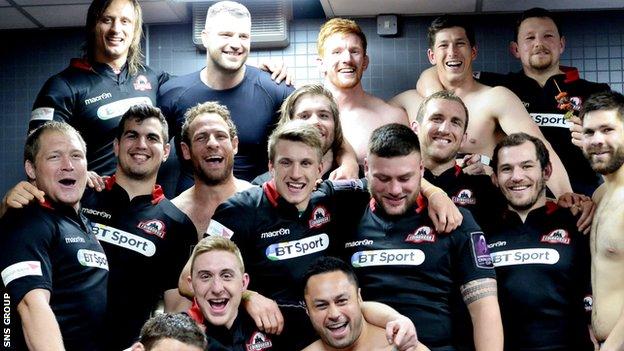 Alan Solomons believes his vision for Edinburgh is taking shape after drubbing Newport Gwent Dragons 45-16 to reach the European Challenge Cup final.
Critics began to round on the South African coach after an indifferent first season at the helm, and a poor start to his second campaign.
"I wasn't here at the beginning - I didn't take part in recruitment and the side were poorly conditioned," he said.
"But this year we had a real opportunity to progress, and we have."
Edinburgh ran in five tries as they became the first Scottish club to reach a European final, while scrum-half Sam Hidalgo-Clyne, a stand-out in recent weeks, notched 25 points.
The number nine's haul and the margin of victory are both European records for the Murrayfield club.
"Sam is a really good player, being involved in the Six Nations has done a lot for him, and I think he generated a lot of confidence off of that, and he's playing some terrific rugby at the minute," continued Solomons.
"We've had a lot of challenges we've had to face as a team. We're a very tight group and it means a great deal to all of us to make a final, and it's fantastic for Scottish rugby.
"For the lads to put out a performance there without five internationals, three of whom would start for Scotland, says a lot for them and a lot for our strength in depth."
Hidalgo-Clyne added: "We never expected to be here, but it's fantastic the club's moving in that direction and making a statement that we should be in the top Champions Cup.
"Life was made easy tonight by the pack, the front-row were awesome in the set-piece, getting easy penalties for me to slot. It's easy when you're on the front-foot.
"Little bits inputted in the Six Nations, getting a bit of game-time - that hugely developed my game. At my age, I want to be progressing and getting to the top as quickly as I can. Being in a final will be awesome, I'll learn from it hugely, just every experience I can and add it to my game."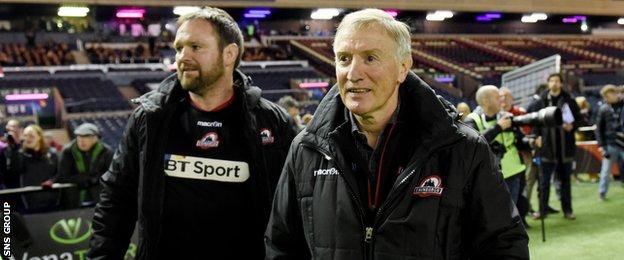 Club captain, New Zealander Mike Coman returned from his second concussion of the season to lead Edinburgh to their win.
"It's one of the tighter teams I've been in," said the former Hawke's Bay back-row.
"You could feel the desire in the warm-up, we want to have something to play for this season and we've put ourselves in that position.
"That's a great reward for the hard work we've been putting in that a lot of people don't see, and a lot of people probably get frustrated with some of our results, but as I keep saying, we're going to have those weeks where we have injuries and we have a bad day.
"I think this year we're a lot fresher, we've got a lot of drive, and we've been together a long time now, so the boys understand our game-plan, our roles and the bigger picture."
Edinburgh will meet either Gloucester or Exeter in the final.