Ian Davies: Cornish Pirates are breeding ground for Premiership
Last updated on .From the section Rugby Union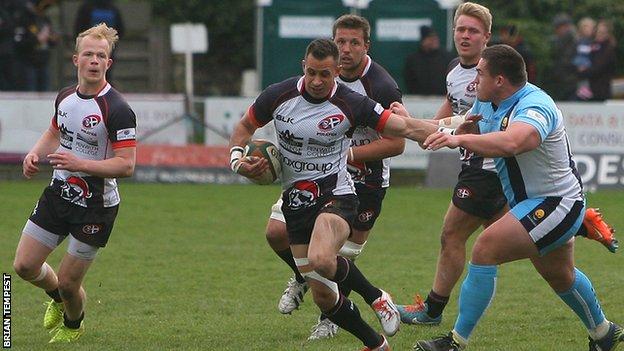 Cornish Pirates head coach Ian Davies has accepted that the club is a breeding ground for the Premiership.
"Until a stadium for Cornwall is built, we can do no more," Davies told BBC Radio Cornwall.
"There's no point putting a war chest together to go for promotion, because we can't do it, so we're here to be a vehicle for players to develop."
The Pirates are on course for a mid-table finish in the Championship and in their final game play Yorkshire Carnegie, who are one place and five points above them.
"I think Tom Shannon and Joe Atkinson have big futures ahead of them - we keep unveiling them and they (Premiership clubs) keep stealing them," added Davies.
"We're talking two different worlds - the top teams like Worcester are bringing players off the bench with international and Premiership experience, while we're bringing guys off who still haven't learnt to shave."
Davies has started planning for next season, signing scrum-half Alex Day from Northampton and extending the contracts of veteran forward Laurie McGlone and winger Luke Jones.
"We're about giving guys opportunities, that's where we're at," Davies said.
"We're a good club that produces good players who go on to the Premiership."