Plymouth Albion: Declan Cusack says club can emulate Doncaster
Last updated on .From the section Rugby Union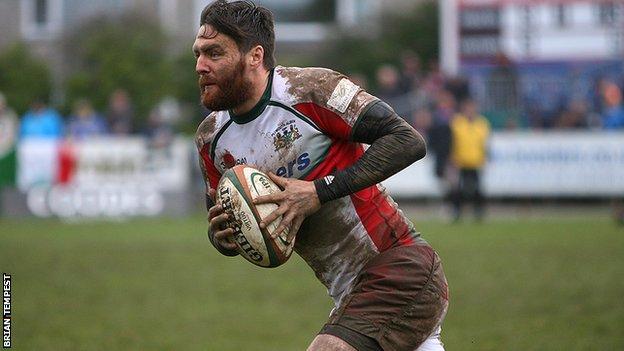 Plymouth Albion club captain Declan Cusack believes they can emulate Doncaster's instant return to the Championship next season.
"We can (emulate Doncaster) if we get player recruitment right," Cusack told BBC Spotlight.
"We've just got to take it on the chin and try to get this club back into the Championship as soon as possible."
Relegation brings an end to Albion's 13-year stay in the division and means head coach Graham Dawe's side will lose its central funding from the Rugby Football Union, which is due to
"Plymouth is a very proud sporting city and if the fans get behind the club and we get the right people in place we can try to repeat what Doncaster have done," added Cusack.
"Whichever boys are leaving we wish them the best of luck, and the boys that stay must go and try to get back in the Championship next year."
It has been a season of turmoil on and off the pitch for the Devon side, which
Albion's final league game is essentially a dead rubber at home to Doncaster.
"Anything's possible but words are very easy - actions speak louder than words," Dawe told BBC Spotlight.
"We need to find 15 players that want to pull on the shirt next season and play for that badge and do that badge proud."