Mike Brown: England full-back still having concussion symptoms
By Chris Jones
BBC Radio 5 live
Last updated on .From the section Rugby Union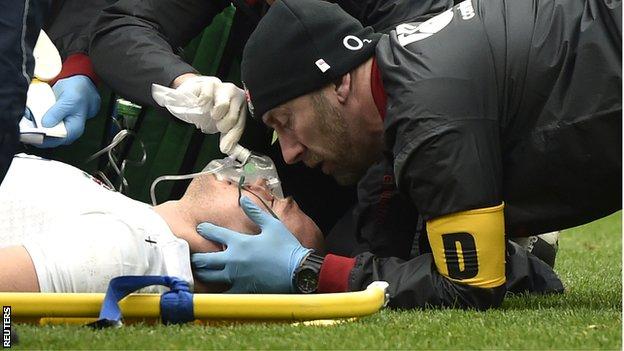 Harlequins' England full-back Mike Brown might not play again this season because of ongoing concussion issues.
Brown, 29, has not played for Quins since returning from international duty last month, and has been stood down for Saturday's Premiership match at Sale.
He was knocked out during the Six Nations game with Italy in February.
Asked if Brown might not play again this term, Quins boss Conor O'Shea said: "I would be lying if I said that mightn't be the case."
Speaking to BBC Radio 5 live he added: "We've only got three games, or five if we get into the play-offs for Europe.
Brown - who is suffering from daily headaches - tweeted: "Thank you for all the kind messages. Tough, frustrating time but I'll be better for it in the future. Hopefully it passes sooner rather than later."
Quins' director of rugby Conor O'Shea
"We'll look after him, and he will be around playing hopefully five or six years from now in a Harlequins jersey."
"If I was a betting man I wouldn't expect to see him back for the match against Bath either in a few weeks' time. Maybe Newcastle [on May 16] but we'll see what is best for the player.
"If you are selfish with an England hat on the best thing for him may be to have a break. He's a competitor and just wants to play, but I think we have done right by the player."
After being injured against Italy, Brown missed the defeat by Ireland before returning for the fixtures with Scotland and France.
After the France game he said he "didn't feel quite right" and has not appeared in a Quins shirt since then.
"He will be in training once he gets over the symptoms, but he is not symptom-free," explained O'Shea.
"Once he is symptom-free he will start a slightly extended return-to-play [process].
"The corner could be turned any day, but it's 'how long is a piece of string?'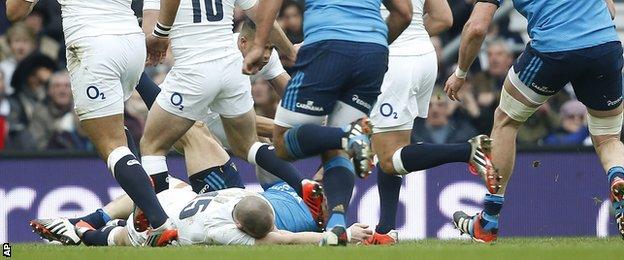 "It's nothing long-term or untoward, but everyone saw the knock he took against Italy and he obviously played two more high-intensity matches after taking a mandatory break. He just hasn't been right."
And while O'Shea admits Brown's condition is of concern, he is confident the player will recover fully to play a part in England's World Cup campaign later this year.
"This is over a month now, it's not pleasant at all. But he's gone to the very best doctors and the very best specialists, and it will subside, and when it does it will be fine," said O'Shea.
"Is it a concern? Of course it is. Anyone who is injured you are concerned about, and it is a head injury, but hopefully the way he has been treated has been good for him long-term.
"With knowledge now we have a better way of looking after players, and that's what we will do for Mike.
"We'll look after him, and he will be around playing hopefully five or six years from now in a Harlequins jersey."