Yorkshire Carnegie v Cornish Pirates (Sat)
Last updated on .From the section Rugby Union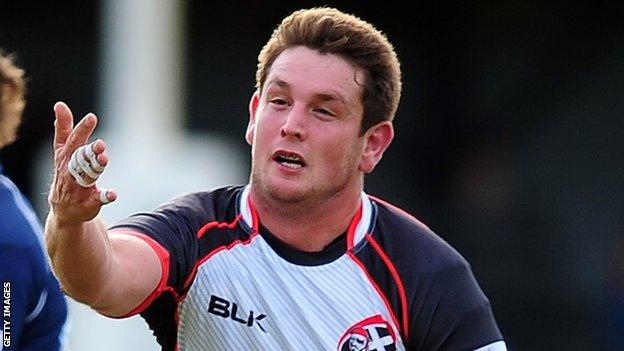 Yorkshire Carnegie will be without David Doherty and Chris Pilgrim when they welcome Cornish Pirates for the final game of the Championship season.
Taylor Prell and Sam Egerton come in, while lock Mike Myerscough makes a return to face his former club.
Pirates are without Kieran Hallett and Matt Evans, while Will Homer and Jack Innard will make their first starts.
Kieran Goss is back to start in place of Evans as Darren Barry captains the side in his final game for the Pirates.
"Kieran's particularly gutted (to miss out) because he's on 199 points and he wanted to break the 200 barrier this year," Pirates director of rugby Ian Davies said.
"Matt Evans is disappointed because he would've been captain for the game.
"We've set three targets; one for attack, one for defence and certain things that we're going to try and nail - and then the final goal.
"Darren Barry's captaining in his last game and he wants to go out and remember his last game for the Pirates."
Davies added: "We've not won there since I've been here. We lost 14-13 a couple years back in a game we probably should've won
"It's normally a high-scoring affair and hopefully we'll see that this weekend.
"We're determined to try and finish on a high and with an eye on next year - try and put a bit of a marker down."
Yorkshire Carnegie: Georgiou; Goss, Lucock, Fitzpatrick, Prell; Leonard, Egerton; Beech, Walker, Hill, Harris, Smith, Myerscough, Walker, Burrows (capt).
Replacements: Nilsen, Imiolek, Tideswell, Jones, Bainbridge, Jones, McIlwane.
Cornish Pirates: Holland; Goss, Tom Hendrickson, James, Pope; May, Homer; Andrew, Innard, Paver, Graulich, Barry (capt), Parker, Atkinson, Bolwell.
Replacements: Elloway, Walker, Jamieson, Lowry, Townsend, Hopkin, Riley.