Edinburgh's Bresler targets Pro12 over European Challenge Cup
By Jamie Lyall
BBC Scotland
Last updated on .From the section Scottish Rugby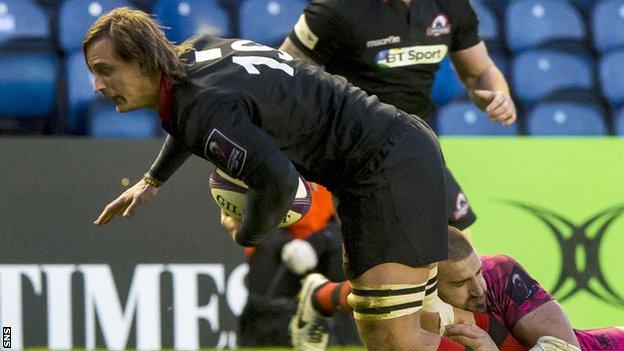 If and when Anton Bresler should decide he's had his fill after 20 years devoted to rugby, a bountiful career in the storytelling business will surely beckon.
Edinburgh's towering Durbanite is a charismatic speaker, regaling his audience with tales of boyhood shenanigans in the South African bushveld, and adventures on the rugby pitch.
He masters when to lighten the mood with a subtle quip, and when to lock eyes with his viewer, channelling his gravity and conviction through a steely gaze.
No yarn is more captivating or wacky than teenage Bresler and company's encounter with a fleet-footed ostrich.
"Young boys that we were, we started chucking stones at it," he recalls, shaking his head.
"It just slowly took a walk behind this big bush. We kept chucking, chucking at the bush. Thirty seconds later we see this ostrich already at full pace coming around the bush. This thing was on its way at full tilt, you could see the aggression.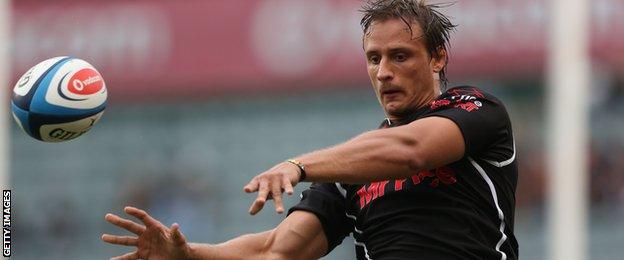 "We did one of those Fosbury Flops over the barbed wire fence, and it stood on the other side huffing and blowing at us.
"You get that cold feeling. Oh man, I was scared."
The huge lock shudders as his voice drops, peering through curtains of hair. The room has fallen silent. Then, in a flash, it's all smiles again.
"Still," he cracks, "I out-sprinted an ostrich; I'm quite proud of that."
Well, that's Anton Bresler. For a long time now the 27-year-old has made a career of bucking trends, relishing the challenges and rewards that come from swimming against the tide.
There's his incongruous affinity with teenage pop music - "I do enjoy Justin Bieber, and One Direction, I'm not going to lie" - his penchant for conspiracy theories - "It's all to do with America and the Illuminati; they want to be in charge of the world…you need to think a bit further" - his mullet hairdo, and even his chosen path through the sport he treasures.
"Everyone in my position at the end of high school would have gone to the Sharks (Super Rugby franchise) Academy," he begins.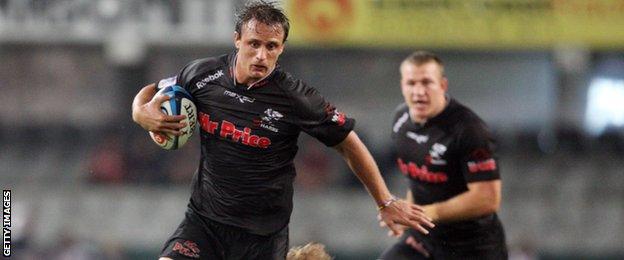 "It was the more recognised academy, not only in Durban or Natal, but in the whole of South Africa. But I decided to go to a small town in Empangeni, the Zululand Academy. I think we had about 30 boys where the Sharks had 150-180, with world-class coaches, all ex-international players.
"I'd lived at home my whole 19 years, I wasn't a boarder, I thought I needed to get away, stay by myself, make my own choices. Everyone questioned that, and that was probably the best choice I've ever made for my rugby career.
"Everyone was saying no, you're making a daft decision to go there. It could have cost my family a lot less if I'd gone to the Sharks academy, but I told my dad, I want to get away from home a bit, and he didn't mind paying extra."
Sure, Bresler loves doing things the hard way. He became a regular in the Sharks line-up at 22, pitting himself against the world's best.
Moving to Edinburgh with wife Kelly in the summer of 2014, his three-year capital contract raised eyebrows over potential Scotland representation at its conclusion on residency grounds.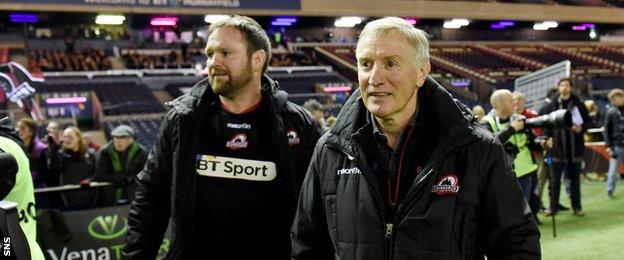 Even with two years and no shortage of second-row rivals between him and Test rugby, he chooses his words with painstaking care.
"It made it easier for me to sign with Edinburgh - I don't want to say I'm going to play for Scotland, but it gives me that extra opportunity," he says.
"But also that three-year deal, I don't want to say it's 'security', but I know I'm going to be here playing rugby for three more years in a great city.
"I don't think of qualifying for Scotland most of the time, because I got brought over to play for Edinburgh. If I play well for Edinburgh then things will slowly work out. Eventually three years will be up, and if I've been playing well it will hopefully fall into place."
Under Alan Solomons, Edinburgh have cast aside the swashbuckling but try-leaking abandon of yesteryear in favour of brawn and pragmatism with a very South African feel.
It's a style befitting bruising Bresler, who has packed on four kilograms of extra beef since his arrival. His pairing with similarly all-action and mop-headed Ben Toolis has flourished in the engine room.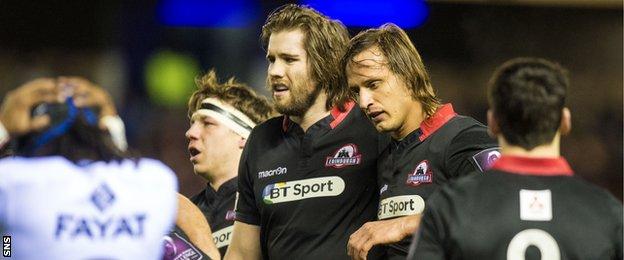 "I'm not going to say it's the only game I know, but I would say it does suit me more," he says.
"Most South African teams are well-structured - it's better for the forwards to follow a structure, to be told what to do on the field. The backs would really direct us, tell us, we're their robots.
"Right now we're playing in the right areas, our playmakers know when to play, and Solly's drilled things into our heads. Our understanding of our game and our structure is a lot better than it was at the beginning.
"When we get into their half, we want to play; we want to run the ball around a bit. Obviously there is some bashing involved, but that's rugby.
"Benny's a great player - he's better in the loose, that's where there's that balance. I enjoy the dirty work, the grinding, more than some. I think we complement each other a lot.
"He copied me with the hairstyle; I came here with long hair!"
After last week's man-of-the-match display in Edinburgh's 37-0 drubbing of Zebre, on Friday Bresler has the opportunity to turn his barn-door shoulders and tree-trunk arms towards The Stoop, and the club's first-ever European final in the Challenge Cup showpiece against Gloucester.
True to form, his perspective on the business end of the season is refreshingly alternative.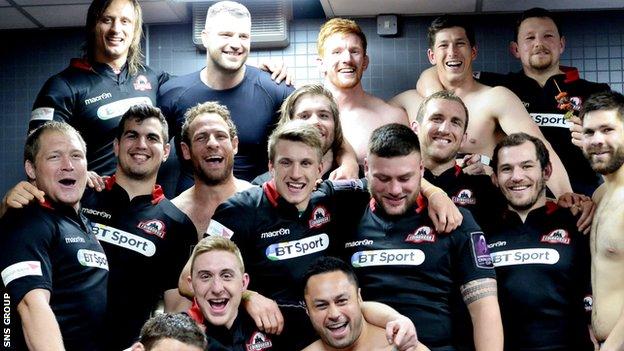 "I know you're going to say, 'oh whatever,' but I would say the remaining Pro12 games are more important than the final," he states.
"The final, we don't gain anything out of it except recognition and a bit of respect. These next two Pro12 games are going to determine where we end up in the domestic league. We want to finish sixth to qualify for the Champions Cup.
"We want to win the Challenge Cup, but we want to win our last league games a lot more. We're not going to make the top six by winning the Challenge Cup."