Edinburgh have raised the bar - Mike Coman
By Jamie Lyall
For BBC Scotland
Last updated on .From the section Scottish Rugby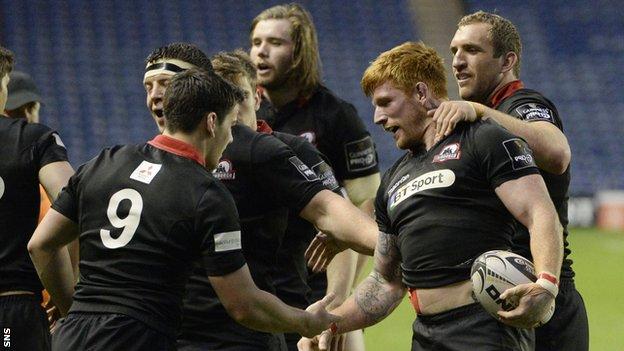 Edinburgh captain Mike Coman believes they have raised the bar on and off the pitch this season.
The New Zealander joined the Pro12 club in September 2013, the start of a testing transitional period under head coach Alan Solomons.
"Our standards have changed a lot off the field; we're fitter for one," said the loose forward.
"There were boys coming off back-to-back seasons last year, hanging on by a thread and getting through games."
The back-row was involved in Friday's 37-0 thumping of Zebre, but Coman endured a trying introduction to the Pro12 as newly-appointed Solomons began to recruit, rebuild and redesign Edinburgh, instilling a hard-nosed, forward-oriented style in place of the risk-laden, adventurous rugby of old.
After a wobbly start to the current league campaign, however, he now finds himself leading the club into the Challenge Cup final against Gloucester on Friday while chasing Champions Cup qualification via the domestic standings.
"You want guys going out there to prove something," said Coman.
"The boys really respect Alan and want to perform for him as well. He's got a very structured game plan and it probably frustrated people.
"I agree with that style of play. Coming from New Zealand, you realise you've got to have structure too, because there are so many guys that are naturally gifted and they just want to play rugby and, when you come up against good defences, that doesn't work."
Coman admits there were "tough times" at the start of the season and the players were aware of the criticism.
"But everyone's stuck to it and this is the tightest team I've ever been involved with," he said. "A group of boys that get on well and want to strive to play well for each other.
"We've got a good amount of experience here now, we're driving high standards and there's a good nucleus of leaders willing to drive those standards.
"That's led from Solly, because he's so honest and up front with boys."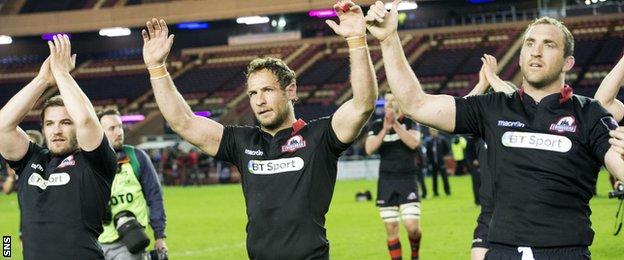 As well as highlighting the squad's enhanced physical condition, Coman cited a combination of "little things" that have catalysed Edinburgh's upward trajectory.
"I think it's a combination of good personnel, right guys for the right jobs," he said. "We don't have any superstars that are all about themselves.
"Punctuality, timing, in meetings, guys have got books, writing things down, and they're being a lot more clinical with their roles.
"You look around the gym, boys are working hard, there's no mucking around, no talking - that's down to the trainers too.
"We're getting some consistency in our programmes. When I first arrived, things were changing a lot; we had different schedules, now boys are in a bit of a routine.
"When we go out to training, we're there to improve; we're not there just ticking boxes.
"We've started to get there, but we're by no means the finished product."