Exeter Chiefs: Rob Baxter urges against Premiership clubs' hypocrisy
By Chris Jones
BBC Radio 5 live
Last updated on .From the section Rugby Union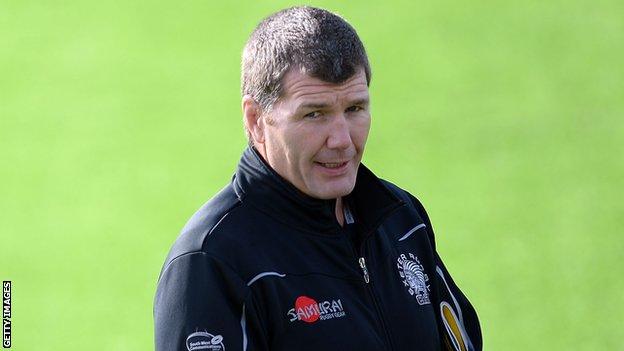 Exeter director of rugby Rob Baxter has warned Premiership clubs must be "morally correct" when it comes to the issue of expanding the league.
Baxter says he supports expansion as long as second-tier clubs are able to aspire to top-flight status.
"The only opinion I have is to ensure we are morally correct in everything we do," Baxter told BBC Radio 5 live.
"I would be very uncomfortable if we established a set of rules whereby a team that was successful on and off the pitch could never have the ambition of being in the Premiership."
Premiership Rugby say as part of the new proposal clubs would be eligible for promotion if they prove their worth on and off the field over a period of time.
However, with a handful of the elite clubs losing money year on year, Baxter has urged against hypocrisy.
"As long as we don't enforce rules on teams trying to get into the Premiership that we're not prepared to enforce on teams who are already in the Premiership - and there are quite a few cases of that - then we have quite a strong moral argument that it is good for the game," he said.
And Baxter is adamant that well-run Championship clubs should still be able to achieve promotion in the same way the Chiefs did in 2010.
"As long as we sort those things out first and we create a structure that does allow for the development of teams outside the Premiership and success outside the Premiership - and there is a way for them to get into this 14-team Premiership - then I am pretty comfortable with that," Baxter continued.
"That, in a way, becomes the challenge for the teams below the Premiership.
"They then have to develop something that allows them to get into the Premiership and they have to have a plan that means if they are successful on the field they can then take their place."