Former referee Stuart Dickinson says rugby must enhance laws
By Jamie Lyall
BBC Scotland
Last updated on .From the section Scottish Rugby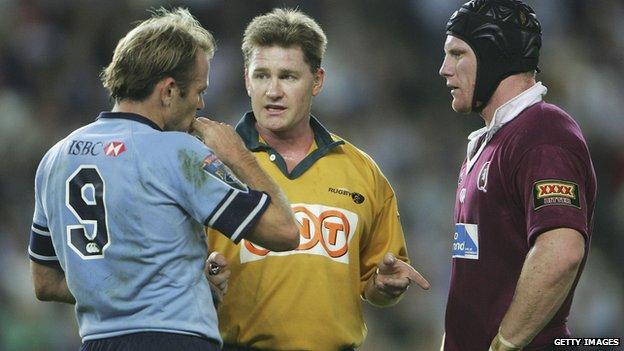 Rugby must enhance its laws governing aerial collisions, former elite referee Stuart Dickinson has argued.
Incidents such as that involving Scotland stand-off Finn Russell, who incurred a two-week suspension for impeding Wales' Dan Biggar in the air, have drawn intense scrutiny and debate.
"You could easily say, when you get off the ground, that's a penalty for dangerous play," Dickinson told BBC Scotland.
"It works both ways."
Russell was shown a yellow card during the 26-23 Six Nations defeat to Wales by referee Glen Jackson, but was cited and adjudged to have contravened Laws 10.4 (e) and (i), pertaining to dangerous tackles and contact with mid-air opponents, with his punishment upgraded retrospectively to a red card and accompanying ban.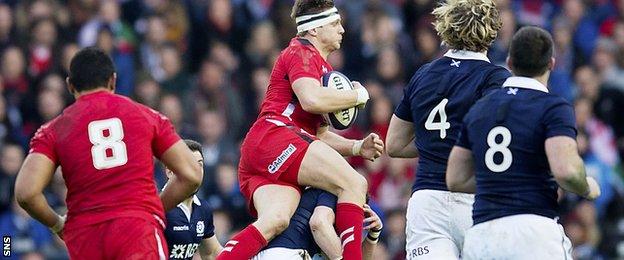 Many, including Russell's Glasgow Warriors head coach Gregor Townsend, disputed the verdict claiming the grounded Scot could do little to avoid colliding with airborne Biggar.
"Conversely, there could be an argument made to say: there's a bloke standing there waiting to catch it, you come in at a million miles an hour, jump in the air and take him out," added Dickinson.
"You as the jumping player have made a clear decision - you're taking the contest miles up in the air when you don't really need to. You take all the risks then, that guy's done nothing other than stand waiting to catch the ball.
"You've created that dangerous situation by leaving the ground. In this case, Russell did move in toward the ball and that would appear to be a contributing factor in the judiciary's determination.
"But if the bloke's three feet off the ground and all you're doing is hitting his bootlaces, then you deserve to be penalised or sent off because if you touch him at that height, there's only going to be one outcome.
"That should become the guiding principle - by all means have the contest, but if it goes wrong, be prepared to accept the punishment."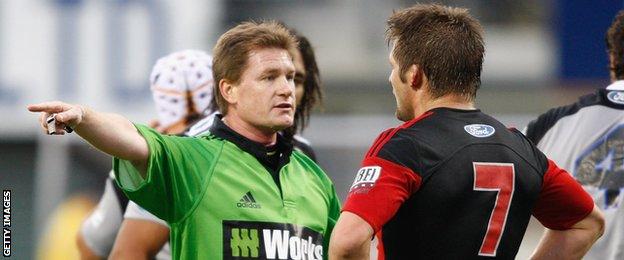 The 46-year-old Australian officiated 47 international matches between 1997 and 2011, and refereed at three World Cups and British and Irish Lions tours respectively.
"I just don't think you can make a hard and fast rule," stated Dickinson. "We know what's clear and obvious: the stupid guy who runs in with arms up and tackles a guy in the air.
"But ones like Russell, well is it the bloke standing still or mistiming his run awkwardly as Russell did? Shouldn't he have been there? Or is it the guy coming in the air? There's just no easy answer.
"Incidents like that end up becoming a right-wrong conversation, people take sides, and nothing ever gets solved. It's bigger than that from a safety point of view, it just takes one of those incidents to go wrong and someone ends up being injured.
"Player safety is paramount irrespective of what's written or unwritten, but you still need to have a contest for possession. The players and coaches probably don't want to slow things down to the nth degree."
Asked whether World Rugby ought to improve its legislation on the matter, Dickinson replied: "Definitely," adding: "With referees people keep shooting the messenger.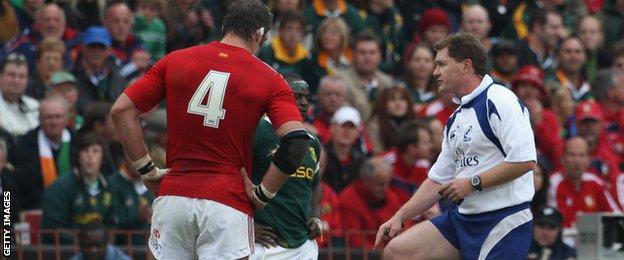 "The referees will only act according to what the laws say, and that comes down from World Rugby. More importantly, there is coach and player input into that, it should become a holistic view of what the game needs.
"What you don't want to do is sanitise or take away from the skill base of the game - there is a skill in the kick and everything around that. The bottom line is players looking after players.
"The kick is still an attacking weapon, but it's judicious, and what should happen is if you do it poorly, the laws and spirit of the game should say you'll get punished by the other team rather than the referees."