Steffon Armitage: Drew Mitchell backs England picking flanker
By Chris Jones
BBC Radio 5 live
Last updated on .From the section Rugby Union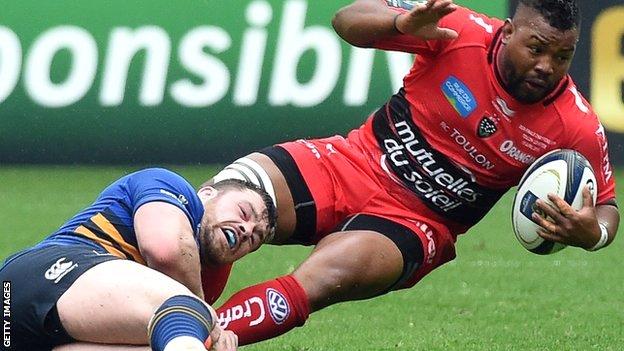 Toulon's Drew Mitchell says not picking club-mate Steffon Armitage in England's World Cup squad because it might harm morale would be a "cop-out".
The Toulon flanker, 29, cannot play for England while based in France.
But overseas-based men can be picked under "exceptional circumstances" - meaning he could yet join the squad.
Speaking about the fears over morale, Australia wing Mitchell said: "I think that would be a real shame if they used that as an excuse not to pick him."
England hooker Tom Youngs and Northampton flanker Tom Wood have both spoken about the prospect of England invoking the "exceptional circumstances" clause to bring in overseas-based players, saying it would affect squad harmony.
But Mitchell, who has won 63 Australia caps, said: "To say he would disrupt the environment or the culture of the group is quite naive. What he brings on the field is world class.
"If one guy comes in and was capable of really disrupting the group culture, then I guess the focus would have to go back onto 'how strong is that culture?'"
Armitage, who is the reigning European player of the year and is on the shortlist once again this season, won five England caps before falling out of favour and heading to France.
He is expected to be part of the Toulon squad as the wealthy French club go for an unprecedented third European title in a row when they face Clermont Auvergne at Twickenham on Saturday.
One potential obstacle preventing Armitage's recall is that he is currently under investigation in France over an alleged assault.
Mitchell, 31, could yet play for Australia against England in the World Cup group stages after the two-time world champions changed their rules on picking overseas-based players last week.
The 2015 World Cup takes place in England from 18 September to 31 October.