'It's not the Sam v Greig show', says Hidalgo-Clyne
Last updated on .From the section Rugby Union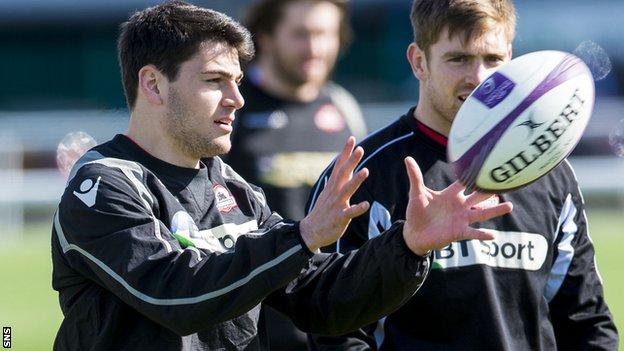 Sam Hidalgo-Clyne is quick to play down the battle between himself and fellow Scotland scrum-half Greig Laidlaw in Friday's European Challenge Cup final.
"It's not Sam against Greig - it's Edinburgh against Gloucester," he said.
"It's not about getting a cheap shot on him. It is about playing my usual game and hopefully, if we do things right, we'll get the better of him and win."
Hidalgo-Clyne had a similar experience in the semi-final against London Irish, when he was opposite former Scotland Under-20 international Scott Steele.
"Because of the hype, it made it a bit more personal and I'm glad I played that because I learned from it," said the 21-year-old.
"It's nice. I've always been behind Greig, which almost gives me the upper hand because I've been learning off him.
"Currently he's Scotland captain and his knowledge of the game and his decision making is outstanding.
"That's something I really learned over this Six Nations especially."

Hidalgo-Clyne suggests they, although they are similar, sniping scrum-halves, he and his 29-year-old opponent have their own styles.
"He does the classic nine snipe," the Edinburgh man said. "I think mine's just a bit more breaks, just a bit more elusive, a bit more loose play around mauls.
"I try to use the speed of the ball to let other players go through and I've been learning not to force things and just let the ball and players do the work."
Hidalgo-Clyne, who has five caps to Laidlaw's 39, does not see Friday's final as being decisive in Scotland coach Vern Cotter's deliberations over the national first choice.
"It is always going to be in the back of your mind, but I don't think it is going to be a one-off game that will influence the decision," he said.
"Vern and the coaching staff have been watching us all season."
Like Edinburgh, Gloucester have had an indifferent league season and, asked if the side from the English Premiership will go into the final as slight favourites, Hidalgo-Clyne replied: "I don't always think a team of superstars makes a very good team.
"With the dominant pack that we've had, we are hopefully going to take that into the game, get a really good set-piece and a structured game and not bring their electric backs in the game and close them out as much as we can.
"The guys are buzzing and really looking forward to this."
Edinburgh would be the first Scottish side to lift the trophy should they win at Twickenham Stoop, the home of Harlequins.
"It is always nice to make history and you don't want to be the team that gets there and falls short," added Hidalgo-Clyne.