Welsh Rugby Union appoints first woman, Aileen Richards, to board
Last updated on .From the section Welsh Rugby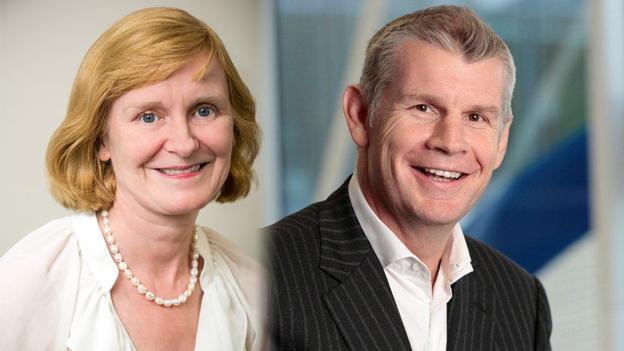 The Welsh Rugby Union has appointed Aileen Richards as its first female board member.
Welshwoman Richards is one of two new independent non-executive directors, alongside Tim Griffin.
Richards is currently based in the USA as the executive vice president and vice president of Mars, Incorporated.
"I am delighted to be the first woman to be appointed to the board of the Welsh Rugby Union in its 134 year history," she said.
"This non-executive role is the perfect conduit to focus my love of rugby, pride in being Welsh and desire to contribute to life in Wales.
"I am committed to making a difference around the board table and it is equally gratifying to be joining the WRU at this exciting stage of its corporate development."
Earlier in April, Hayley Parsons, the founder of price comparison website Gocompare.com, was unsuccessful in her attempt to become the WRU's first female board member.
Richards grew up near Cardiff and holds a BSc Honours degree in business studies. She spent her 30-year career at Mars in a number of high-profile roles in the UK, Belgium and USA.
Griffin is chief executive officer of Dell UK, the technology company, having previously worked for PricewaterhouseCoopers and the BBC.
He has roots in Wales and played number eight for Newbridge, Cross Keys, Cardiff, and British Universities.
"As a dedicated rugby player and supporter I am delighted and extremely proud to have been appointed as a non-executive director to the board of the Welsh Rugby Union," said Griffin.
The new board appointments follow a decision at the last Annual General Meeting of the WRU.
"The appointment of Aileen and Tim as independent non-executive directors is a landmark decision in the evolution and modernisation of our governance," said WRU chairman Gareth Davies.
"They are both exceptionally qualified individuals with vast expertise and experience at the highest levels of industry.
"The appointment of Aileen as the first woman to sit on the board of the WRU demonstrates that we are determined to modernise and become representative of our supporters in our corporate governance."