Mark Cueto: Sale Sharks winger ready for goodbye
By Nathan Middleton
BBC Sport
Last updated on .From the section Rugby Union
Some days he knows it is the right decision. Some, like after scoring tries in his past two games, Mark Cueto has his doubts.
The 35-year-old ex-England and British and Irish Lions winger will play his final ever game when he steps out at Exeter on Saturday.
"My mood changes daily, from thinking I'm in a good place, to panicking about finishing," he said.
The Premiership's greatest ever accumulator of tries has crossed 90 times for Sale Sharks in the top tier of English rugby, since a try-scoring debut in 2001.
"It's a whole mixture of emotions at the minute," he added. "But ultimately I know I've made the right decision and it is the right time to retire.
"I'm not comparing my final game to getting married, but you just don't know - I think I'm prepared and ready."
My debut put my dad in hospital
A one-club man at his local team, Cueto hit the ground running on the opening day of the 2001-02 season when named on the right wing at Bristol for his debut.
Receiving the ball from Jason Robinson 10 metres outside the 22, he attacked the open space on the right, cut inside, then out, to put the defender on the floor and placed down with consummate ease.
"My parents have travelled the world supporting me over the years and naturally they were there for my first game at Bristol - or I thought they were," said Cueto.
"It wasn't until after the game that I gave them a ring and my old man is in Bristol hospital because he's had some sort of nerves attack.
"It was his nerves over me," laughed Cueto. "My old man was so nervous about me making my debut he bottled it a bit."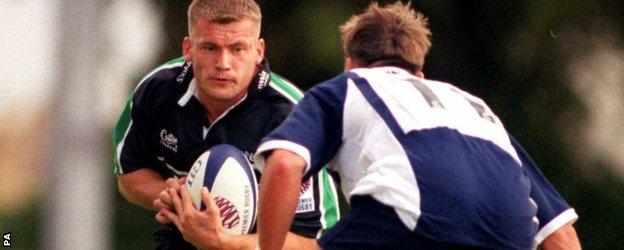 Sale director of rugby Steve Diamond, now is his second stint in charge, gave Cueto his debut when he was in charge of the first team with Jim Mallinder, now director of rugby at Northampton.
"He had an opportunity to leave with Charlie Hodgson in 2011, but he decided to stay which I was grateful for," said Diamond.
"He's never been picked through favouritism, it's always been his attitude. And for the young lads coming through, that is the thing you don't have to be skilful at.
"I don't think we're going to see his like again."
A sports degree to fall back on...
A talented footballer growing up, Cueto played for South Cheshire alongside ex-Crewe players Kenny Lunt and Rob Hulse.
He only began to take rugby seriously aged 17 and worked his way through the Sale academy while studying a Sport with Coaching and Exercise degree at Manchester Metropolitan University.
In his first season as a professional, he scored 13 tries to finish as the Premiership's top try scorer.
"I'd never say scoring was too easy," said Cueto, who is moving into a role with the Sale commercial team.
Leading Premiership try scorers
Mark Cueto (Sale Sharks) - 90
Tom Varndell (Leicester/Wasps) - 85
Steve Hanley (Sale Sharks) - 75
Paul Sackey (London Irish/Wasps/Harlequins) - 68
Tom Voyce (Bath/Wasps/Gloucester) - 66
"I just got to the point where I was just so confident - every time I went out on the field, I felt confident in what I was doing.
"And without sounding like a goody two shoes, I just never took anything for granted.
"In my first season we finished second in the league, winning the Challenge Cup, I was the Premiership top try scorer and going on tour with England to Argentina.
"Even then, I was still thinking 'if it doesn't work out, I've got my university degree to fall back on and I'll probably try this or that' - that was my mentality as I was so new to it."
He was part of a potent Sharks back-three including World Cup winner Jason Robinson and Steve Hanley - the man whose record he broke when he crossed against Exeter in February 2013.
"I think his record speaks for itself, being the top Premiership try scorer of all time - I did put him in for most of those," joked Robinson, 40.
"He's scored some fantastic tries and I had the privilege of playing alongside him for seven years."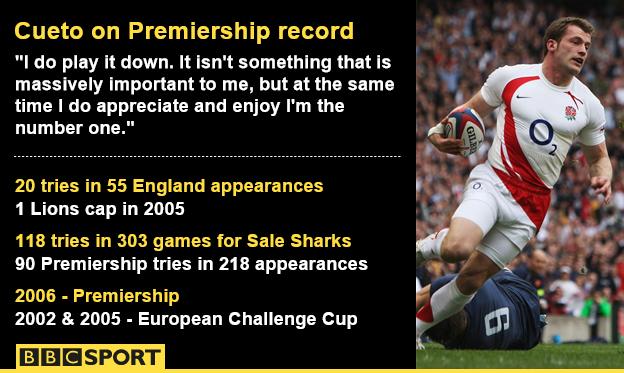 His most recent try, in the 34-28 win over Newcastle, extended Cueto's lead on the all-time list to five above Wasps wing Tom Varndell, who is joining Bristol next season.
"Fingers crossed Bristol don't come up and he's stuck in the Championship for a couple of years," Cueto said with a wry smile.
"I think that is probably the only chance I've got of keeping hold of it - if he's in the Premiership he'll definitely overtake it."
The 'try' that never was
After a prolific first few seasons, Cueto made his England debut in 2004 and continued his hit rate at international level, scoring eight tries in his first eight games.
Although he toured with the British and Irish Lions to New Zealand in 2005, Cueto said the 2007 World Cup "blew it out of the water" in terms of an experience.
It was at that tournament he came within inches of scoring a try in England's final defeat by South Africa.
"I see it as a massive positive," Cueto said on the disallowed try.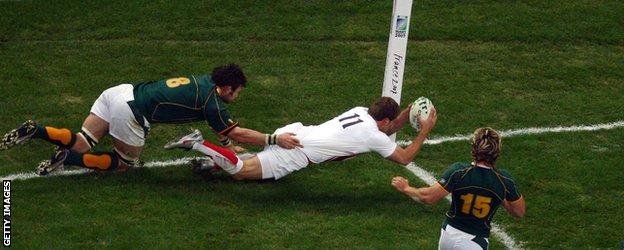 "Don't get me wrong, there is nothing more I could've wished for than that try to have been given and we win the World Cup.
"But, even eight years on, people still ask me about it and I just see it as a massive positive, particularly with the role I'm going into.
"On the face of it, it is something negative to be associated with but in eight years I've never had anybody come up to me and say 'how did you not score that try?'
"People are always asking 'how was it not given?' so there is always a positive slant on it which is quite lucky for me."