Scotland Sevens could go part-time after losing venue status

By Jane Lewis
BBC Scotland
Last updated on .From the section Scottish Rugby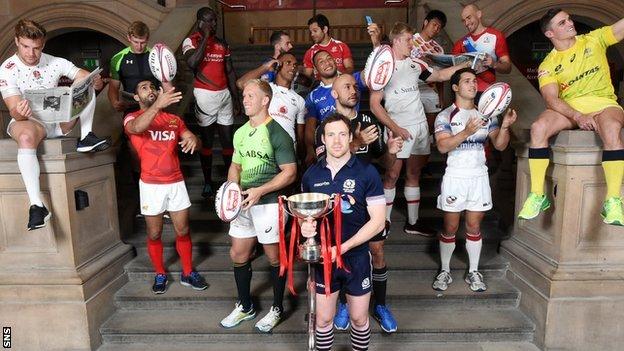 Scotland's sevens squad could go part-time if a decision to drop the country as a world series venue from next year is not reversed.
Scottish Rugby is still in talks with World Rugby, the series organiser.
But, if there is no change of heart, the Scots are likely to withdraw from the Sevens World Series in favour of the European circuit.
SRU director Dominic McKay said: "We are in discussions with World Rugby, but we've got our work cut out."
Ahead of the world's top sevens sides heading for Glasgow's Scotstoun Stadium this weekend, McKay stressed that no decision has been made about the future of Scotland's squad.
But he admits that a severe shake-up might be necessary if, as expected, the country that invented the sevens game was to lose out on being one of the nine venues to France from next year.

"We have invested significantly over the last seven years in developing sevens in Scotland and developing that tournament, which is regarded by the players as their favourite tournament in the whole series," McKay told BBC Scotland.
"Sevens is growing globally just now and we can see the success of it as a result of its inclusion in the Olympics in 2016 in Rio and again in 2020 over in Tokyo.
"There is significant investment going into sevens just now and it's beginning to take off, so for us to lose a leg at this time has very disappointing consequences for revenue streams around sevens."
The SRU invests around £1m per year in its national sevens squad and funding from SportScotland of nearly £600,000 from 2011 also helps to pay for 11 full-time professional players, plus a coaching and backroom staff of six.
"So we are really upset and we're frustrated for our partners and particularly for our supporters, who, as you will see this weekend, are coming out in great numbers to support what is a fantastic global event," said McKay.
"We will always have a rugby sevens side. What shape or form will be determined in due course, but our focus is to make sure that we've got the best possible opportunities for young players to develop their skills either at XVs or sevens."
This weekend will be the eighth time Scotland has hosted a leg of the world series and national sevens head coach Calum MacRae views his squad as an important part of player development.

"The sevens programme has been very much used to develop certain individuals for the XVs game," he said.
"It is very much centred around certain positions - back row and back three players where the transferability of the skills the guys have to perform in both sevens and XVs is very similar."
Ibrox Stadium in Glasgow hosted a sevens tournament at last year's Commonwealth Games and current squad member James Fleming said it was another avenue of achievement for professional players, along with Pro12 sides Edinburgh and Glasgow Warriors.
"It is huge to have a third professional outfit where players on the fringe of the pro teams can come and train in a professional environment, play at international standard and then go back into the pro teams having that quality of rugby," he said.
"I signed for Warriors when I was at university and there wasn't an opportunity at Glasgow.
"The opportunity came through the sevens and I've played with lots of boys who got the same sort of aspect of that as a youngster."