Scotland: Scarlets' John Barclay denies fall-out led to cap exile
By Jamie Lyall
BBC Scotland
Last updated on .From the section Scottish Rugby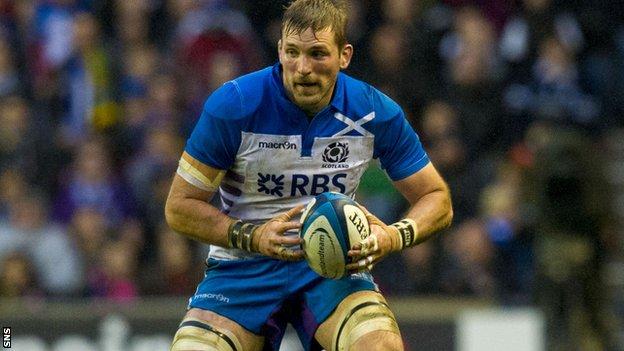 Scarlets back-row John Barclay has denied that a fall-out with management sparked his 18-month exile from the Scotland squad.
The 28-year-old won the last of his 43 caps against South Africa in November 2013.
"No, I just wasn't picked," he told BBC Scotland.
"I've been tagged on Twitter - people say, John should be picked, someone comments, no, he's a negative impact, and I just laugh at it."
Barclay burst on to the Test scene during the 2007 World Cup, when, two days short of his 21st birthday, he went toe-to-toe with New Zealand's illustrious captain and open-side flanker, Richie McCaw.
The first recipient of the esteemed John Macphail Scholarship in 2005, he was feted as a Scotland captain of the future.
But, along with deposed skipper Kelly Brown, he fell out of favour with then-head coach Scott Johnson and present incumbent Vern Cotter, with his renewed exclusion the cause of consternation among supporters and pundits.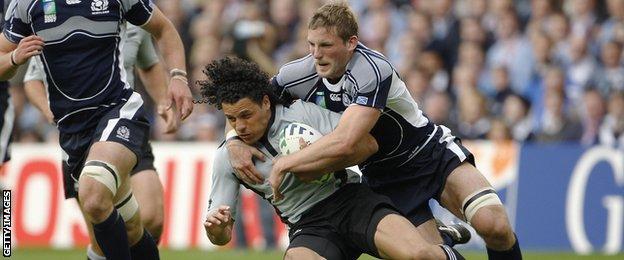 "I had a chat with Vern after the Six Nations squad was announced," he said, revealing he had also sought counsel from Scotland's forwards coach.
"I met up recently with Jonathan Humphreys down in Wales and had a chat about my game and how he thought I was playing.
"Before that, I hadn't spoken for a long time with anyone from Scotland, so it was good to get some feedback on what they were looking for from me.
"To some extent I feel I was written off, bracketed with a generation that was older than me.
"It's been a frustrating year and a half, but at the same time I feel I've been playing some of my best rugby this season."
The former Glasgow Warriors forward is thriving during his second season at the Scarlets.
A senior figure in the Welsh region, he believes a combination of fatherhood, his university studies, a degree course in surveying and land management, and maturity have aided his rugby.
"I didn't see many Scotland games - it's not something I want to do," he said, speaking of the Scots' Six Nations whitewash earlier this year. "I find it hard to watch the games when I'm not playing.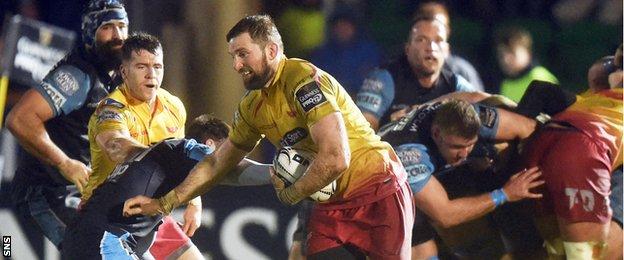 "I've always had a hope I would get called back in and it hasn't materialised yet. I've focused on myself a bit more; having a family's given me a lot of perspective on rugby.
"I play rugby to have fun now and in professional sport you can forget that sometimes and get hung up on non-selection.
"I think a younger version of me would have got very hung up on what's happened the last two years.
"I try and speak to the younger guys down here and tell them they should do something - a lot of them just play rugby then go home and do nothing.
"I remember guys telling me you should do something away from rugby and I thought, oh, whatever, and now I wish I had.
"I've got a bit of balance in my life; I've got a lot going on."