'Fat lady' gives Exeter Chiefs motivation to beat Saracens
Last updated on .From the section Rugby Union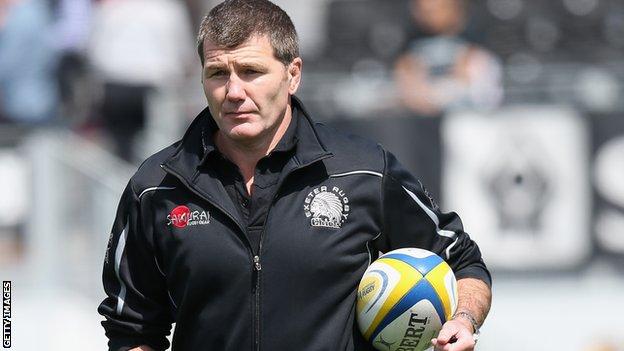 'It is not over until the fat lady sings' - a well-known phrase which warns you should not presume the outcome of an event when it is still in progress.
It cautions against assuming the current state of an event is irreversible - in sporting terms, do not celebrate until the final whistle goes.
But what happens when a 'fat lady' starts opening her vocal chords before the end?
That is what happened in Saracens' games when they first moved to Allianz Park.
In home matches when they were winning comfortably, a man dressed in drag would appear singing a rendition of 'Nessum Dorma' over the stadium tannoy while the action was still going on.
It also happened during the closing stages of Sarries' 31-11 victory over Exeter Chiefs in their first ever Premiership game at the venue in 2013, something which Chiefs' head coach Rob Baxter does not remember particularly fondly.
Baxter's side recorded their first triumph at Allianz Park this weekend, with Thomas Waldrom scoring two tries in a 24-20 victory which puts Exeter one win away from a potential Premiership play-off place.
The result lifted the Devon club into the top four, putting them on the brink of their highest ever finish, though Baxter, when questioned, harked back to the infamous 'fat lady'.
"I know there were a couple of our coaching staff who were pretty motivated - so it's quite satisfying (to win)," Baxter told BBC Radio Devon.
"When this place first opened we were sitting there and some fat bloke in a wig, or whatever, was singing on the big screen."
The sing-song did not go down well with Exeter fans, players and staff, though the stunt did continue at Allianz Park for a while longer before it was seemingly put to a stop.
Saracens were widely criticised by rugby supporters for the act, though the club's chief executive Edward Griffiths had previously defended it, claiming it is impossible to keep all the fans happy.
To sweeten the deal even more the points put Exeter above Saracens in the table ahead of the final set of fixtures this weekend.
"It's nice to see humility broadcast wide here isn't it," added Baxter after Exeter had turned-over their opponents.
To coin a sporting chant - 'you only sing when you're winning' - perhaps Saracens would have been best to wait until they had actually won.