Olympic Rugby Sevens: Team GB qualify if England make last eight

Last updated on .From the section Rugby Union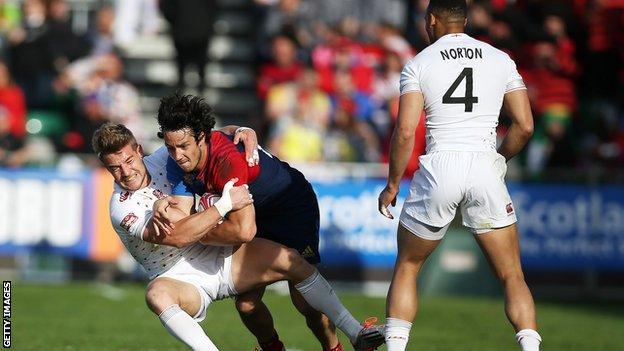 Great Britain's men side will qualify for the 2016 Olympics if England reach the quarter-finals of the last leg of the Sevens World Series at Twickenham.
A place in Rio is also guaranteed if rivals Australia - 16 points behind - do not reach the last eight.
The team are ranked fourth in the world going into Saturday and Sunday's meeting, with the top four progressing.
Fiji, New Zealand and South Africa were the first three sides to qualify, alongside hosts Brazil.
What is Rugby Sevens?
A shortened version of rugby, sevens was first played in Melrose in Scotland in the 1880s. But it was not until 1999 that the world series was born.With seven players a side, it is fast-flowing and entertaining. Rugby sevens is now recognised as an Olympic sport and will make its debut in Brazil in 2016.
"All the pressure we have comes from ourselves," said England captain Tom Mitchell.
"There's been the most hype around the series there's ever been and the huge part of that is the Olympic qualification."
Should England fail to qualify through the World Series, they can still reach Rio by winning the Rugby Europe Sevens Championships, with three legs to be played in June and July.
There would also be a final chance via a repechage tournament involving 16 teams - four from Europe, three from Africa, three from Asia, two from Oceania, two from North America and two from South America.
Sevens is making its Olympic debut in Rio and England's men's and women's teams were chosen to compete in qualifying after finishing the 2013-14 Sevens World Series higher than Wales and Scotland.
"It's a massive responsibility and honour to be named as the GB qualification team," added Mitchell.
If they earn Team GB a place, the squad will be drawn from players from all three countries.
Simon Amor's side finished third in the penultimate leg of the World Series in Glasgow and before that won in Tokyo.
The event doubles up with the Women's Sevens Series, where England's women are playing catch-up to obtain their top-four finish, albeit still with the Amsterdam Sevens to come.
England Rugby Sevens World Series fixtures

Men

Women

England v Kenya, 16 May, 11:34 BST

England v South Africa, 15 May, 13:50 BST

England v Brazil, 16 May, 14:40 BST

England v Russia, 15 May, 16:34 BST

England v Scotland, 16 May, 17:46 BST

Canada v England, 15 May, 19:18 BST
England's women also have the responsibility of qualifying for Team GB but find themselves in trickier circumstances, currently sixth in the standings.
The side have so far failed to perform on the second day of competition, but captain Abigail Chamberlain hopes making the semi-finals for the first time in their last outing in Canada is a sign of things to come.
"The biggest emotional part of that was the quarter final win," she said.
"Nailing that down was incredible for us, it really boosted us and gave us confidence."