Premiership final day play-off permutations
Last updated on .From the section Rugby Union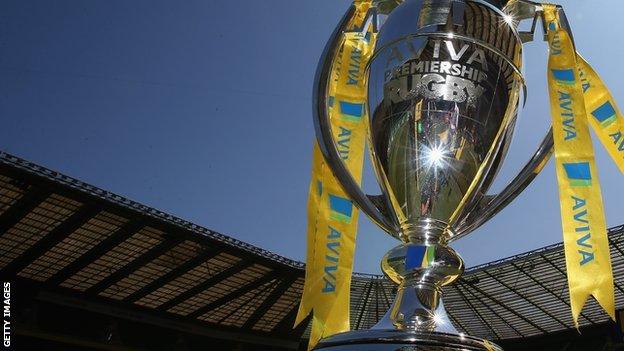 Heading into the final day of the Premiership season, two of the four play-off places have still yet to be decided.
Northampton Saints will finish top of the table and Bath have already confirmed second spot, meaning both teams will have home advantage in the semi-finals.
However, the two remaining places can still go the way of either Leicester Tigers, Exeter Chiefs or Saracens.
BBC Sport looks at the various play-off permutations heading into the final day of the Premiership season...

Leicester Tigers

will secure a play-off place if they match or better the result of Exeter Chiefs and/or Saracens.

If Leicester win without a bonus point and Exeter and Saracens both win with bonus points, Richard Cockerill's side will still finish third because they will have accumulated more victories, which takes precedence over points difference in the league table.

If

Exeter Chiefs

better Leicester's result against Northampton, they will be guaranteed a play-off spot.

If Exeter and Saracens both win, the Chiefs will definitely be in the play-offs providing their margin of victory is no more than two points less than Sarries'.

If

Saracens

win and either Leicester or Exeter fail to do so, Mark McCall's team will secure a top-four place.

If Sarries and Exeter both achieve the same result, Saracens must better Exeter's margin of victory by four or more points to leapfrog them.