Scottish Rugby 'doesn't need Scott Johnson' - Iain Morrison
Last updated on .From the section Scottish Rugby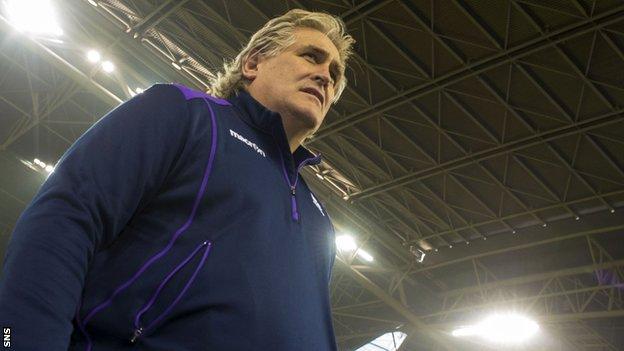 Scotland would be better without director of rugby Scott Johnson rather than downgrading their sevens team, says former forward Iain Morrison.
Scottish Rugby's board is expected to make an announcement about their squad after a Thursday board meeting.
"I just don't see the point of Scott Johnson," Morrison said of the prospect of the team going part-time.
"I think there are good people at Murrayfield and they could do Scott Johnson's job without him around."
Johnson, who had been Ospreys' head coach, first arrived in Scotland in 2012 as assistant to national boss Andy Robinson.
The 52-year-old Australian took over as interim head coach after Robinson's resignation that December.
But, in May 2013, it was announced that Johnson would become director of rugby once a new permanent head coach was appointed, with Vern Cotter arriving from Clermont Auvergne the following summer.
"So we have the national backs coach being promoted to run the entire show without the job ever being advertised," Morrison told BBC Radio Scotland.
The SRU is considering the future of its squad in anticipation of a World Rugby decision to drop Scotland as one of the Sevens World Series venues.
Scotland's governing body says it would be a financial blow, but Morrison questions the suggestion that £1m-per-year is required to run the sevens squad.
"I am not sure where the SRU get their £1m from, because the players are only on between £25,000 and £35,000, there's only 12 of them and there are three management team that go with them," he said.
"On top of that, World Rugby pays for all the travel, all their hotels and all their food.
"I think, originally, it was fairly obvious they were going to scrap the team.
"Then they realised a huge amount of anger about the decision and so I suspect they might pull in their horns a little bit and make the team go part-time instead to appease the public."
Morrison said thinks it is the wrong time to drop sevens as a full-time activity considering it is about to enter the Olympic Games.
"Scotland is the home of sevens, it's a good development tool and, for me, it doesn't make any sense whatsoever," he said.
"Ireland have been very successful without a sevens team, but Ireland have been successful for other reasons and are setting up a sevens team as we speak.
"The world is jumping on this bandwagon. Sevens is the growth area in rugby. it is absolutely taking off
"The analogy is like 20/20 in cricket. It is the one huge area of growth.
"Somebody said it is obligatory now in Russian schools because of the Olympic funding.
"It is going to take off and Scotland are getting out of it at completely the wrong time."