England selection policy 'needs clarity' say Premiership figures
Last updated on .From the section Rugby Union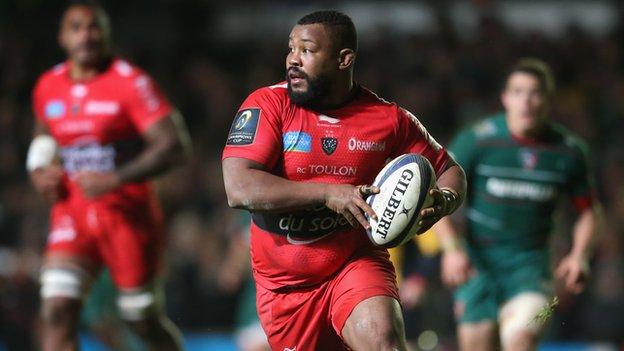 By Chris Jones, BBC Radio 5 live
Leading figures at Premiership clubs have called on England to make their policy over the selection of foreign-based players clearer.
Only in "exceptional circumstances" will the Rugby Football Union pick those who play club rugby abroad.
It means players like Toulon's Steffon Armitage can, in theory, be called up.
Removing the "exceptional circumstances" clause would clear up ambiguity, say Harlequins boss Conor O'Shea and Northampton's Jim Mallinder.
"It would make it a lot easier, just to have it black and white," O'Shea told BBC Radio 5 live. "Any area that's not a grey area is a nice area to be in."
Northampton's director of rugby Mallinder agreed. He said: "It would make it easier, and stop any of the dilemma going on. That would certainly be the easiest thing to do."
It is a stance that has been backed by World Cup winners Lawrence Dallaglio and Martin Johnson, with the former England manager saying the absence of clarity regarding the policy for the selection of foreign-based players, introduced in 2011, "created issues" during his tenure.
Lancaster is highly likely to exclude Armitage and Clermont Auvergne's Nick Abendanon from his World Cup training squad, which will be announced next Wednesday.
O'Shea said it is vital that there are no exceptions when it comes to England's selection policy.
"It's massively important I think for anyone who has any care for the game in England," he added.
"I know you will have the populists who will say it has to be an exception, as it's a home World Cup. But there should be no exception.
"It's the future of the game [at stake], five, 10 or 15 years down the line, and we are the people who are here to safeguard it, and make sure there remains the number of high-quality English players coming through, a market-place we can all afford and a country that people want to play for.
"And that's spoken as an Irish person. So I'm not speaking with an English nationalistic hat on.
"I've known Steff [Armitage] and Nick Abendanon a long time and they are outstanding rugby players, but they made that decision to go to France and that should be the end of it."
Mallinder added: "These players have options to stay and options to go, and you have to make your own decision. On the clubs' behalf [the policy] is vital, and I'm pretty happy Stuart is sticking firm by that."
Lancaster will name a squad of around 45 players on 20 May, before training camps in Surrey and Denver.
The squad will be cut to 31 players in the build up to the World Cup, which starts on 18 September.